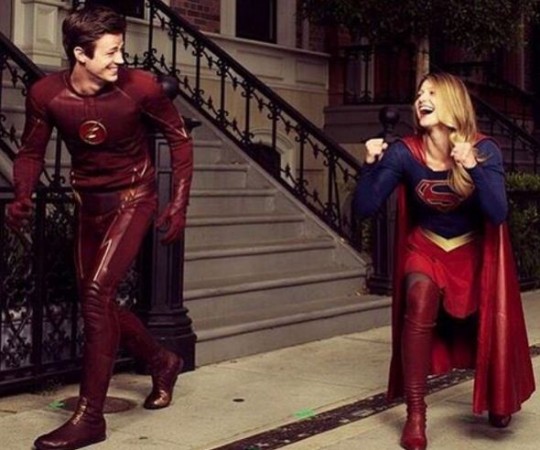 "The Flash" Season 2 Episode13's title, "Welcome to Earth-2", suggests that it will take the fans to Dr Wells (Tom Cavanagh) and Jay Grarrick's (Teddy Sears) world. In the previously aired Season 2 Episode 12 "Fast Lane", Barry (Grant Gustin) and Cisco (Carlos Valdes) had decided to accompany Wells to Earth-2 and help him save his daughter (Violett Beane) from Zoom.
Barry and Wells devised a way to close all the breaches of Earth-2 and had started bonding in the previous episode, despite Wells' best efforts to keep his distance. As fans know Wells has already stolen a little bit of Barry's speed for Flash and that almost cost Iris' (Candice Patton) life. However, in the end, Wells realised that he cannot keep cheating Team Flash, and confessed to his crime.
Barry and his friends were angry with Wells, but the speedster then realised that given the choice between family and everyone else, each one of them would have chosen family. Towards the end of the episode, Barry tells Wells that he and Cisco would go with him to Earth-2 and help him save his daughter.
Also Read: Here is how you can get Alan Tudyk to read your Con Man/Firefly fanfiction
In the promo for "Welcome to Earth-2," fans will see the evil version of Caitlyn Snow, Killer Frost (Danielle Panabaker) and her partner Deathstorm (Robbie Amell). There is also a geekier looking Barry and Iris to look forward to in the upcoming episode.
Multiverse in "The Flash" has also opened doors for Barry to visit Supergirl's universe in CBS. It has been confirmed that Barry would enter another universe, which contains the Earth where alien superhero Kara (Melissa Benoist) lives. Titled "World's Finest," Season 1 Episode 18 of "Supergirl" will see Barry travelling to National City and helping Kara fight one of her villains.
At this point, the crossover is only one-way and "Supergirl" will not be visiting Central City anytime soon, but this news finally confirms that Kara is a member of the Arrowverse. However, the likelihood of Oliver (Stephen Amell) visiting National City with Barry is very low. Although we suspect that he may be the butt of a joke or two in Barry's description of his world.
Watch Season 2 Episode 13 of "The Flash" at 8 pm (EST) on Tuesday, 9 February. You can also live stream "Welcome to Earth-2" via Cwingo and The CW Seed.