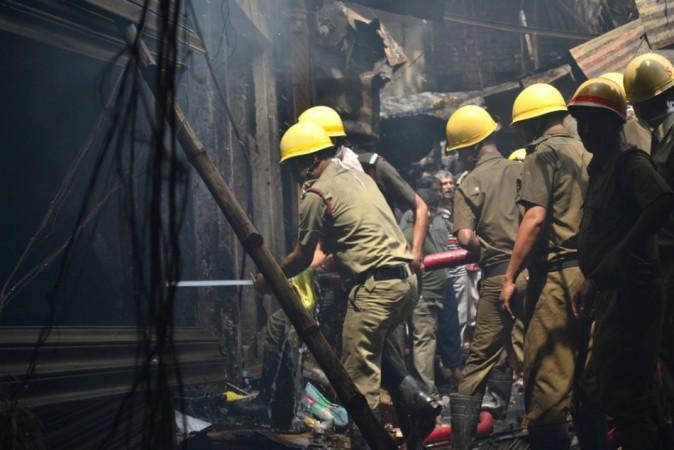 A fire broke out at the livestock seller's outlet run by West Bengal government on Thursday that led to a panic outbreak at the Alipore court premises.
The workers of Sundarini outlet- a unit of Sundarbans Co-operative Milk and Livestock Producers Union Ltd, rushed out of the store as flames started to spread out of the shop. The outlet stocked Sundarini cow ghee, wild honey, eggs, and different meat and meat-based products by Haringhata Meat.
Four fire tenders reached the spot and brought the fire under control. It took around one and half hours to douse the fire. Nobody was injured in the incident, said the Kolkata police.
The local people visiting the court, and the lawyers and employees at the government offices panicked upon witnessing the fire.
The outlet, which is located inside the premises of the Alipore court, was set up in 2016 in collaboration with West Bengal Livestock Development Corporation Limited. The premises also houses the office of District Magistrate of South 24 Parganas, two government offices, the office of the motor vehicles department, an art gallery and chambers of hundreds of lawyers.
The Chief Minister of West Bengal, Mamata Banerjee, had launched a scheme to empower the women of Sundarban area and named it as Sundarini. The scheme provided local products of the region like ghee, cow milk, honey, chicken and duck eggs, a rare variety of rice (dudhsar) and moong dal. The marketing of these organic products was a stepping stone to enter competitive markets.
At a recent occasion of World Milk Day held on June 1, Sundarini outshined Gujarat's Anand and received the excellence award at by Union Panchayatraj and Agricultural Minister Puroshottam Rupala and a cash prize of Rs. 25 lakh was awarded to Sundarban Co-operative Milk and Livestock Producers Union Limited by FICCI-Millennium Alliance for organic initiatives.