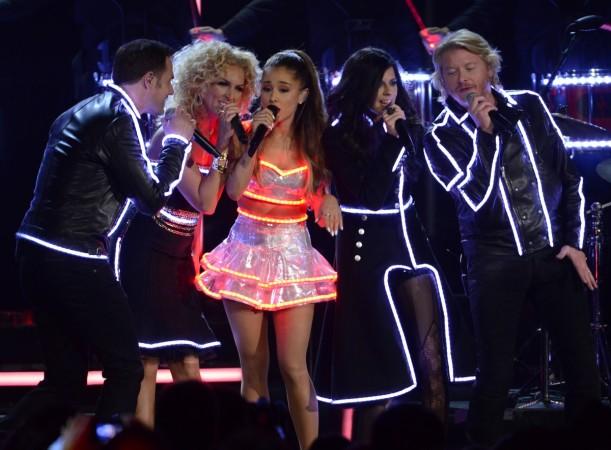 Despite her rep confirming that the singer is fine, fake photo claiming that Ariana Grande has been injured in the attack has gone viral on social media. Several other fake stories started spreading on social media after the deadly explosion occurred at the end of Ariana's concert in Manchester, United Kingdom.
The fake photo shows injured Ariana sitting backstage with her bags and clothes. In the photo, she appears to be bloodied and bruised after the attack. However, the singer is fine and the viral photo is not taken after the explosion. The photo is actually an old picture of Ariana that was taken in 2015 during the shooting of a video.
Also Read: Ariana Grande concert explosion: Singer indefinitely suspends world tour after Manchester attack
Another fake report claimed that the singer has quit music after the attack, but the fact is the singer has indefinitely suspended her world tour. Several tweets suggested that the singer has retired from music, but do not fall for the tweets. After the attack, the singer has suspended her The Dangerous Woman Tour. She was expected to perform in London on Thursday, May 25.
"She will not perform Thursday in London and has decided for now to put the entire European tour on hold. She was scheduled to perform in England, Belgium, Poland, Germany and Switzerland," a source close to Ariana told TMZ.
Several reports even claimed that a gunman was spotted outside a hospital near the Greater Manchester area, but the authorities searched the area and no offences were found.
"Police have attended an incident @roh Scene searched, no offences and all staff &patient's are safe &well," GMP Oldham tweeted.
The explosion occurred on Monday night after Ariana's concert ended in Manchester arena, United Kingdom. At least 22 people died, while more than 50 people were left injured in the attack.