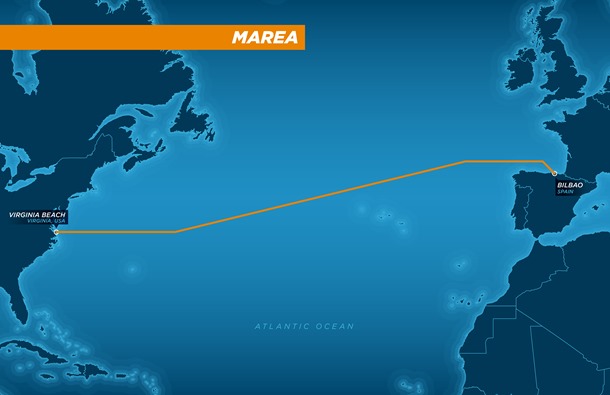 UPDATE:
9:29 a.m. IST, Tuesday:
Eric Handa believes that this will be a landmark event in telecommunications. Handa, the co-founder of APTelecom, a key player in the subsea cable consulting space, told the International Business Times India that the announcement sees a switch from telecom operators laying cables to over-the-top (OTT) players investing in infrastructure.
"It's important because it means that by 2020 and 2025 OTTs will own and operate more fiber assets on certain global routes than traditional telecom operators," he said.
Microsoft owns a 1.6 percent stake in Facebook, for which it paid $240 million in 2007.
Original Story:
Virtual/augmented reality (VR/AR) was probably the last time Microsoft and Facebook were spoken about in the same breath -- the HoloLens is Microsoft's AR project and Facebook owns VR tech firm Oculus. Now, the two tech titans are joining hands to connect the world through an undersea cable.
The undersea cable will be called MAREA, which means "Tide" in Spanish, and will run across the floor of the Atlantic Ocean. The cable will be used by Microsoft and Facebook to help meet the growing customer demand for high speed, reliable connections for cloud and online services that Microsoft and Facebook's customers are demanding, Microsoft announced in a blog post.
According to the post, a contract has been signed by both the parties and construction will begin in August 2016, with an expected completion date set for October next year.
MAREA will reportedly be the highest-capacity sub-sea cable to cross the Atlantic, transferring data at a speed of up to 160 Tbps. The cable will apparently span 6,600 km and will be operated and managed by Telxius, the infrastructure arm of Spanish telecom company Telefonica.
The cable will connect Virginia Beach in the U.S. with Bilbao, in Spain, before sending data to network hubs in Europe, Africa, the Middle East and Asia.
"In order to better serve our customers and provide the type of reliable and low-latency connectivity they deserve, we are continuing to invest in new and innovative ways to continuously upgrade both the Microsoft Cloud and the global Internet infrastructure," said Frank Rey, director of global network acquisition at Microsoft Corp. "This marks an important new step in building the next generation infrastructure of the Internet."