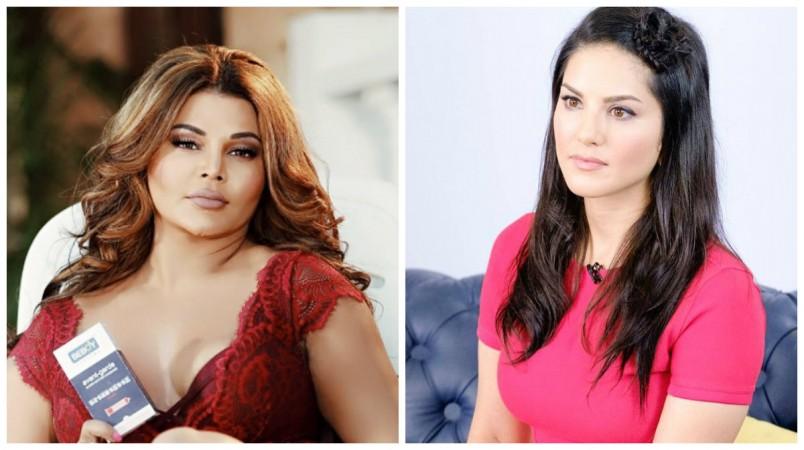 Rakhi Sawant has come up with some serious allegations against Sunny Leone. The controversial diva has alleged that the Mastizaade actress gave her phone number to people from the adult film industry in Los Angeles, who are now calling her to act in adult films.
Rakhi Sawant told International Business Times, India that she has been getting calls and messages from the people in the adult film industry from abroad, asking her for her videos and medical certificate.
"Sunny Leone has given my number to the adult entertainment industry. I am getting calls from people there. They are asking for my videos and medical certificate and are offering me good amount. But I am not at all interested in doing such work. I will die but will never ever get into that world. I am an Indian girl and I know my values. Mein dil se Hindustani hoon( I'm an Indian by heart). When I asked them how they got my number, they took Sunny Leone's name," Sawant told IB Times.
Sawant further said that Sunny called her from an unknown number and asked her if she was jealous of her.
"After I posted the congratulating videos for the former porn star, she called me from unknown number and was asking if I am jealous of her. Why will I be? I have done good work in the B-Town. I have brought the trend of remix. People can sit with family to watch my work. However, I just hope people from porn industry don't misuse my name and number," she added.
Sawant had recently posted some videos on Instagram congratulating Sunny for her newly born twins.
Sawant also sent some screenshots of messages to IB Times of a person, claiming to be from a porn website, asking her if she was interested in shooting for an upcoming film.
We tried to contact Leone's husband Daniel Weber and her manager on Whatsapp, but neither of them responded.