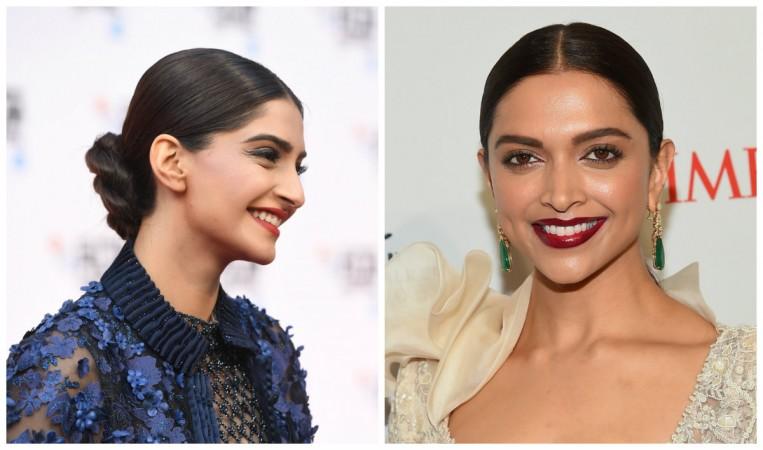 Sonam Kapoor's wedding on May 8 will be attended by several big celebrities from the industry, but Deepika Padukone is unlikely to be a part of the ceremony.
Deepika and Sonam's relationship didn't have a good history, and hence the former's presence or absence from the event is likely to become a topic of discussion. While it would have been interesting to see Deepika dancing at Sonam's marriage, the Padmaavat actress might skip the big event, and she has a good reason to do that as well.
According to Mid-Day, Deepika is slated to attend the MET Gala in New York just a day before Sonam's wedding and will be seen walking the red carpet at the Cannes Film Festival on May 10. Hence, with such tight schedule, the dusky beauty is not likely to be able to make it to Sonam and Anand's marriage ceremony.
Although the clash of the dates between Sonam's marriage and Deepika's prior commitments is just a co-incidence, DP might like this co-incidence considering their past cold war.
The cold war between Deepika and Sonam had come to the light when the latter had taken sharp digs at the actress on Koffee With Karan show. She had targeted Deepika on her fashion sense.
"Amongst the rest, Deepika has upped her game. But that is all thanks to Anahita (Deepika's stylist) who is doing a great job with her. Katrina is herself. She does not try to fit into a mould which I respect a lot. She is not trying to become the fashion icon of the century which is really cool. I like the fact that she likes being in jeans and white shirt rather than be on the cover of Vogue every three months," Sonam had said when asked about current actresses and their fashion style.
And as if that was not enough, the Kapoor girl continued firing a salvo at Deepika on the show. When the host had asked her if she had any fashion advice for her rival, Sonam said, "Create your own style. She's not a clotheshorse. She wears what people, she doesn't have her own style."
Later, Deepika had responded to Sonam's jibe saying, "Fashion, for me, is what I believe in, what suits my personality, what suits my body type and what I can carry off. It is not what people in the fashion world are dictating."
However, Sonam and Deepika had later ended their cold war as the Neerja actress had praised Deepika's performance in Bajirao Mastani, and DP too had responded to it nicely.