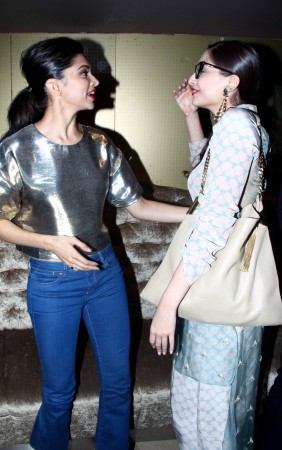 Sonam Kapoor and Deepika Padukone's cat-fight is not a new story.
Even though the cold war between the two is apparent to the world, Deepika rarely responds to comments passed on her by Sonam.
But, it seems the two leading actresses have decided to bury the hatchet once and for all.
As everybody knows, Deepika's film "Bajirao Mastani", directed by Sanjay Leela Bhansali, released recently.
The film and the performances of the actors have been appreciated by several Bollywood celebs, including Sonam.
The "Prem Ratan Dhan Payo" actress praised the period drama on social media, and in return Deepika also showed appreciation for the trailer of Sonam's upcoming film "Neerja".
Here are their tweets:
#BajiraoMastani is spectacular @RanveerOfficial @deepikapadukone and @priyankachopra all your hard work and dedication shows brilliantly!!

— Sonam Kapoor (@sonamakapoor) December 17, 2015
Thank you soo much @sonamakapoor !!!and all the best for Neerja!loved the trailer!!! — Deepika Padukone (@deepikapadukone) December 18, 2015
Thank you!!! https://t.co/QknrG0Hwue

— Sonam Kapoor (@sonamakapoor) December 18, 2015
The problems began after the two divas appeared on an episode of "Koffee With Karan", in which they criticised Ranbir Kapoor openly, and also passed remarks on other celebs. This was one of the most controversial episodes of the chat show.
But later, Deepika patched up with the "Barfi" actor and also signed films together, which reportedly infuriated Sonam. Then, last year the "Bajirao Mastani" actress was also invited at the Kapoor scion's birthday party, but Sonam was not.
After this, Sonam — known for being a blabbermouth — never let go of a chance to take a dig at her friend-turned-foe.
Once, when Deepika announced her decision of working for the cause of mental health on Twitter, the "Neerja" actress made a statement saying if she ever wanted to commit to a cause she wouldn't flaunt or announce it on social media.
Sonam also gave "expert" comments on Deepika's fashion sense on "Koffee With Karan" with her father Anil Kapoor.
The Bollywood fashionista compared Deepika with Katrina Kaif's outfits. She said: "Even if she (Katrina) wears a jeans and T-shirt and has her hair in ponytail.. I'd rather have that than someone who is like 'I want to be on the cover of Vogue every three months'."