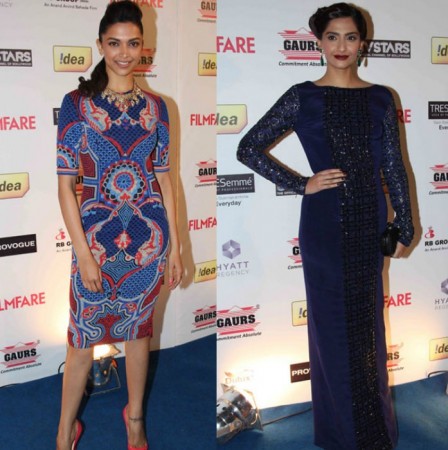 Sonam Kapoor's recent remarks at Deepika Padukone's dressing have met with a stirring response from the latter.
The "Raanjhanaa" actress had outspoken best in her recent appearance in "Koffee with Karan" as she directed some unfavourable comments on contemporary Padukone.
Kapoor had criticised the "Chennai Express" actress for her lack of originality in her fashion statement and instead credited her designer for the perfect stylish appearances at the events.
"Deepika has upped her game, but it's all thanks to Anaita (Shroff Adajania). She has done a great job on her...Deepika's not a clotheshorse, she doesn't have her own style," Kapoor had remarked on the show.
And recently when Padukone was confronted with Kapoor's statements, the actress initially tried to play it down saying Kapoor was entitled to her opinions.
However, the doe-eyed beauty followed up with a crisp reply stating firmly that she needn't follow the fashion trends.
"Fashion, for me, is what I believe in, what suits my personality, what suits my body type and what I can carry off. It is not what people in the fashion world are dictating," Padukone told Hindustan Times.
Since Kapoor's name is evidently associated with the tag of fashionista and trendsetter in the industry, we needn't guess who Padukone was hinting at with her indirect reference.
Further when asked of stylish actress, Padukone picked "Queen" actress Kangana Ranaut, clearly giving a miss to the self- proclaimed fashion icon, Kapoor.
Not just Padukone, recently Parineeti Chopra also took a dig at Kapoor when she said Kapoor should endorse an unlimited talktime plan for some mobile company for her non-stop talking habit. It should be pointed out that Kapoor had picked on Chopra for wearing tight clothes in the same episode of "KWK."
Meanwhile, Kapoor's appearance on the show invited flak from a large section who considered her statements ranging from dumb to preposterous on the show. On a similar note, a video titled "Sonam's selfie song" has been created which has attracted quite a many takers. The video features the actress' innumerable selfies with her outlandish comments on the background.
Check out the funny video:

(Ed: AJ)