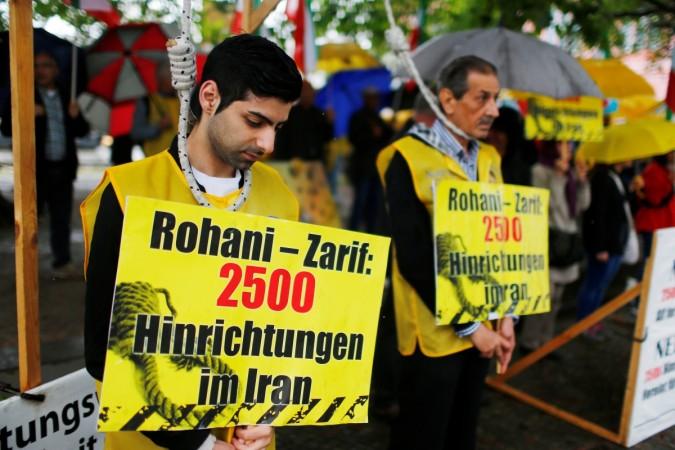 More than 270 Members of European Parliament (MEPs), including including six vice-presidents and several committee chairpersons, and some vice-presidents of political groups, signed a joint statement calling on the European Union (EU) to "condition" its relations with Iran on the improvement of human rights.
''The Human Rights situation has deteriorated dramatically since President Rouhani came to power. Repressive measures against women and the religious minorities have continued to increase,'' Darya Safai, an Iranian-Belgian women's rights activist, was quoted by Euroreporter as saying during a seminar in European Parliament.
"It is a great contradiction that we in the EU are so proud that all 28 member states have abandoned the death penalty, but we seem to have no problem doing business with the world's leading executioner-state. If EU does not insist publicly and seriously on improvement of human rights this would be a great damage to our credibility," said Belgian MEP Gerard Deprez, who chairs Friends of a Free Iran in the European Parliament.
Discrimination and criminal repression against ethnic and religious minorities, arrests of critics and systematic online censorship continue, she said, stressing that the penal code introduced under Rouhani foresees corporal punishment. ''Torture is widespread at various place of detention,'' she added.
The statement signed by the MEPs declares that "the recent parliamentary elections were a sham. Opposition was banned. Thousands of candidates were filtered by the 'Guardian Council' under orders of Ayatollah Khamenei. Those who were permitted to run were the most loyal to the state and many have been involved in human rights abuses.
"Iran's support for Syrian dictator Bashar al-Assad who is responsible for the killing of half a million of his own people and has paved the ground for the expansion of the so called Islamic State or Daesh is also of enormous concern to MEPs," it adds.
Human rights abuses in Iran
Iran has currently the highest number of executions per capita in the world and the highest number of executed minors, according to international human rights organisations.
While China leads the world in state executions, Iran is the leader in per-capita executions, with approximately 1,000 executions in 2015, according to figures from Amnesty International, which described the rate of executions as ''a horrific image of the planned state-killing machine.''
The UN special rapporteur on Iran announced that the rate of hangings are now the highest in the past 27 years. More than 2,300 executions have been reported during Hassan Rouhani's presidency.
Rouhani has said the executions he endorses are examples of "God's commandments."
Click here to read more about Amnesty International's torture and human rights violations in Iran.
Iran reportedly also has the highest number of journalists and social media bloggers in prison.
Iran's state news media announced on Wednesday that their detainee Nazanin Zaghari-Ratcliffe, a British-Iranian employee of the Thomson Reuters Foundation, arrested in Iran more than two months ago, has been accused of sedition.