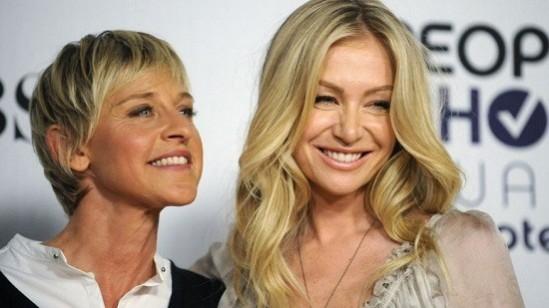 Ellen DeGeneres and Portia de Rossi's divorce reports have been doing the rounds for quite some time now, but the popular chat show host has put all the rumours to rest with a just a photo.
The 58-year-old talk show host posted a photo of wife Rossi, with whom she has been married for nine years now, on Instagram, hinting that all is well between the two. On Thanksgiving Day, DeGeneres wrote on Instagram that she is most thankful for her wife Portia for being with her.
The photo shows 43-year-old Rossi with their two pet dogs "Happy Thanksgiving! Here's a photo of some of the things I'm most thankful for," she wrote along with the photo. Last week, DeGeneres posted a photo with wife de Rossi after she was honoured with the presidential award for Medal of Freedom. "@BarackObama just awarded me the Medal of Freedom. I hope it serves as an ID. I have no idea how I'm getting home," she captioned the photo.
Both the photos of the Rossi and DeGeneres prove that they are still strong as ever.
DeGeneres and Rossi's divorce reports gained momentum recently after an In Touch magazine reported saying that they are fighting over the talk show host's drinking habits and controlling nature. The magazine also claimed that Rossi and DeGeneres' divorce could be the ugliest in Hollywood, as it reportedly involves a $345 million fortune.
"[They] always seem to be on the verge of a breakup over one crisis or another. But now a divorce is imminent," an insider told In Touch magazine. "It was two-fold. Ellen's obsession with controlling Portia's personal life and career, and then Ellen's insistence on not starting a family. That's the biggest hurdle they can't seem to overcome — Portia wanted children and Ellen didn't," the insider said.
However, looking at the adorable photos of DeGeneres and Rossi, it is safe to say that all is well between the two.