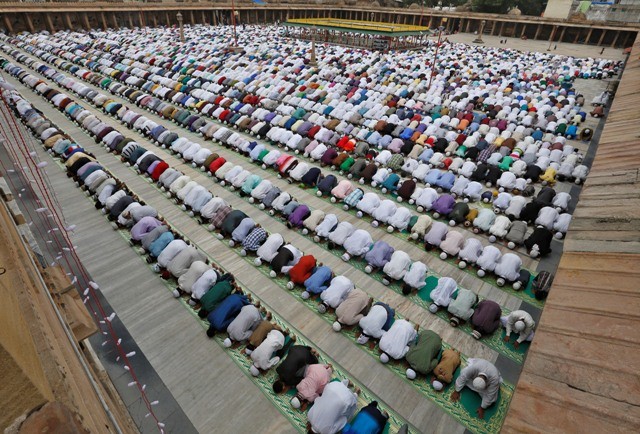 Ramadan is nearing its end and Muslims around the world are preparing for Eid al-Fitr celebrations. The biggest part of Eid al-Fitr celebration is offering special prayers early after sunrise. While the Eid al-Fitr date still hasn't been announced in India, timings for the congressional prayers have already been announced by various mosques and Eidgahs.
Eid al-Fitr will be celebrated on Friday, June 15, in most Islamic countries, according to astronomical predictions. The Islamic committees are yet to confirm whether Muslims will fast for 29 days or 30 days before celebrating Eid this year. If Eid al-Fitr falls on Saturday, June 16, then Muslims will get 30 days of fasting.
In India, Eid al-Fitr could fall on either day. It will be confirmed by 9 p.m. on Thursday, but mosques have already announced the timings when the Eid prayers will be offered. Muslims can check with their local mosque for details on accurate timings for Eid prayers and also about the Eidgah locations and respective timings.
If you're living in Bengaluru or nearby districts, we've compiled a list of all the popular (and possible) mosques and Eidgahs where the Eid al-Fitr prayer will be offered.
Note: IBTimes, India, has received this information via a reliable source, but we couldn't independently verify the Eid timings for the respective mosques and grounds. It is best to consult with your local mosque or religious committee for guaranteed information.
| | |
| --- | --- |
| Bengaluru Eidgahs where Eid prayers will be offered | Eid al-Fitr prayer timings |
| Sultanji Gunta Abdul Bari corporation Ground | 6:35 a.m. |
| St.Charle's Corportation Foot Ball Ground, Lingrajpuram | 6:40 a.m. |
| Presidency Ground R.T.Nagar | 6:45 a.m. |
| Jamia Muhammadiayah Thanisandra | 7:10 a.m. |
| Corporation Kannada High School Ground-Gangondanahalli | 7:15 a.m. |
| Jaymahal Park, Jaymahal | 8:00 a.m. |
| New Generation School Ground, Kanakapura | 8:00 a.m. |
| Corporation Girls High School Ground,Sangam circle Padrayanapura | 8:00 a.m. |
| Chota Maidan ,Shvajinagar | 8:00 a.m. |
| Ground Next To Park, Bismillah Nagar | 8:00 a.m. |
| Bengaluru East Football Ground,Frazer Town | 8:30 a.m. |
| Islamia Institute Of Technology Playground | 8:30 a.m. |
| N.A.S Convention Centre Shmapur Road | 8:30 a.m. |
| Darul Uloom Sabeelur Rashad-Bengaluru | 9:00 a.m. |
| Eidgah Sangeen Jamiya Masjid, Taramandal | 9:00 a.m. |
| Eidgah Jadeed Mysore Road | 9:00 a.m. |
| Eidgah Madival | 9:00 a.m. |
| Eidgah Shanthi Nagar | 9:00 a.m. |
| Sir Khazi Eidgah Chamarajpet | 9:30 a.m. |
| Madrasa-E-Ashraful-Banat Ground, TalghatpuraBengaluru | 9:30 a.m. |
| Eidgah Islampur | 9:30 a.m. |
| Viveknagara Corporation Play Ground. | 9:30 a.m. |
| Eidgah Jadeed,Tannery Road | 9:30 a.m. |
| S.R.Function Hall | 9:45 a.m. |
| Govt. Urdu School Barline, Dr.TCM Royan Road | 9:45 a.m. |
| Eidgah Al-Muslim HMT Township | 10:00 a.m. |
| Eidgah Akbari Neelsandra | 10:00 a.m. |
| Eidgah Malleshwaram | 10:00 a.m. |
| Corporation Ground,10th Cross, Willson Garden | 10:00 a.m. |
| Eidgah Faiz Umar, Banshankari | 10:00 a.m. |
| Hazrath Khazi Abdul Quddus Saheb Eidgah | 10:00 a.m. |
| Jamiat-E-Mahdavia, Mattadahalli | 10:00 a.m. |
| Mahdavia Muslim Charitable Trust, Kalasipalyam | 10:00 a.m. |
| Eidgah Jayanagar VI Block | 10:30 a.m. |
| Eidgah Ahmed Nagar,Chandra Layout | 10:30 a.m. |
| Eidgah Sabju Saheb, Badamakan, H.Siddaiah Road | 11:00 a.m. |
| AJ BJ Hussain Cricket Ground, Behind Sampanahalli Police Station | 11:00 a.m. |
| | |
| | |
| --- | --- |
| Mosques in Bengaluru for Eid prayers | Eid al-Fitr prayer timings |
| Masjid-E-Ayesha, Rose Garden-Neelsandra | 6:10 a.m. |
| Masjid-E-Noor-Ur-Rehman, K.G.Halli | 6:12 a.m. |
| Masjid-E-Towheed Ahle Hadees, Umar Bagh Ilyas Nagar | 7:00 a.m. |
| Masjid-E-Akbari Neelsandra | 7:30 a.m. |
| Masjid-E-Lababeen, Lingrajpuram | 7:30 a.m. |
| City Jamia Masjid, K.R.Market | 8:00 a.m. |
| Jamia Masjid Madival | 8:00 a.m. |
| Masjid-E-Mohammadi,Sharjapur | 8:00 a.m. |
| Makkah Masjid,BDA Layout, Auston Town | 8:00 a.m. |
| Masjid-E-Ibrahim Ali Shah Saheb,Kumharpet | 8:00 a.m. |
| Masjid-E-Nauman,P & T Colony | 8:00 a.m. |
| Jamia Masjid,Islamabad, Basvangudi | 8:30 a.m. |
| Masjid-E-Amir Kaleemi, Old Gurdahalli, Mysore Road | 8:30 a.m. |
| Masjid-E-Quba,Yarabnagar,Banshankari | 8:30 a.m. |
| Jamia Masjid, Ilays Nagar | 8:30 a.m. |
| Masjid-E-Noor, IV Block, Rajajinagar | 8:30 a.m. |
| Masjid-E-Bismillan Shah, Cockburn Road, Shivajinagar | 8:30 a.m. |
| Masjid-E-Afzal, Whitefield | 8:30 a.m. |
| Masjid-E-Yousuff, HBR Hennur Ring Road | 8:30 a.m. |
| Masjid-E-Sayeedia,Kaval Byrsandra | 9:00 a.m. |
| Masjid-E-Aala,Chinnayan Palya | 9:00 a.m. |
| Masjid-E-Mina,B.T.M Ist Stage | 9:00 a.m. |
| Masjid-E-Islamia,Tilak Nagar | 9:00 a.m. |
| Makkah Masjid,Indra Colony,Rajajinagar | 9:00 a.m. |
| Masjid-E-Ameen, Venkteshpuram | 9:00 a.m. |
| Masjid-E-Quba,BTM II Stage | 9:00 a.m. |
| Sunni Masjid,Arab Line, Richmond Road | 9:15 a.m. |
| Jamia Hazrath Bilal, Tannery Road | 9:30 a.m. |
| Masjid-E-Mueenia,Subedar Palya | 9:30 a.m. |
| Raja Hussain Bagh Sawar Masjid,Balepet | 9:30 a.m. |
| Masjid-E-Abul Qasim,Mavalli | 9:30 a.m. |
| Jamia Masjid,Housing Board Colony, Yelahnka | 9:30 a.m. |
| Masjid-E-Ali Abul Hasnain, Leksandra | 9:30 a.m. |
| Makkah Masjid, Channappa Garden | 9:30 a.m. |
| Masjid-E-Qair,Vinobha Nagar | 9:30 a.m. |
| Al-Maqdoom Jamia Masjid, Kempapura | 9:30 a.m. |
| Masjid Towheed, Vijnapura | 9:30 a.m. |
| Masjid-E-Mohammedia,TMCS Layout | 9:30 a.m. |
| Muslim Mehdavia Fara Masjid, Nayandanhalli | 10:00 a.m. |
| Masjid-E-Khizar, Shanthi Nagar | 10:00 a.m. |
| Ashrafia Masjid,Shampur Road | 10:00 a.m. |
| Masjid-E-Noor, Madival | 10:00 a.m. |
| Masjid-E-Junaidia, D.J.Halli | 10:00 a.m. |
| Makkah Masjid, Neelsandra | 10:30 a.m. |
| Masjid-E-Muazzam (Hari Masjid) | 10:30 a.m. |
| Khankhah-E-Warsia, D.J.Halli | 10:30 a.m. |
| Jamia Masjid,Yeshwanthpur | 10:30 a.m. |