The holy month of Ramadan is already in the last ten days, which is of utmost significance for Muslims around the world. From fasting and midnight prayers to charity and E'tikaf, a practice where Muslims retreat in isolation for a set number of days for absolute dedication towards Allah, Muslims around the world are trying to make the most of the holy month.
As the month of Ramadan nears its end, preparations for celebrations of Eid al-Fitr have already begun. Muslims around the world will be looking forward to the grand celebrations of the Eid, which also marks the beginning of the Islamic month of Shawwal.
Unlike the Gregorian calendar, Islamic calendar follows lunar cycle. The sighting of a new crescent marks the beginning of a new month, which was how Ramadan was announced on May 16 in most parts of the world, including India. Similarly, Muslims will end their daily practice of fasting from dawn to dusk after 30 days and celebrate Eid al-Fitr.
When is Eid al-Fitr in India?
Ramadan started in India on the same day as it in the West and including Gulf countries such as Saudi Arabia. This also means that Eid al-Fitr will be celebrated in India alongside Western countries simultaneously, which is a rare occurrence.
Depending on the sighting of the new moon, Eid 2018 will commence on the evening of Thursday, June 14, and end on Friday evening. According to the Gulf News, observing the night sky for the new moon will begin on June 13, as it is pretty common for Islamic months to end after 29 days depending on the sighting of the moon.
But Ebrahim Al Jarwan, general supervisor at Sharjah Planetarium, says "we expect to definitely see it after the sunset of June 14." Similarly, Indian Muslims will have completed 30 days of fasting by June 14, so Eid al-Fitr is most likely to fall on Friday, June 15.
How is Eid celebrated in India?
Eid al-Fitr is a grand celebration for Muslims around the world. On the day of Eid, Muslims start their day as usual by offering the morning prayers of Fajr, which is mandatory. Following that, there's a special Eid al-Fitr prayer in open grounds, where Muslims gather in their best attire to thank Allah.
Muslims offering Eid al-Fitr prayers must give sadaqah al-Fitr (charity of fast-breaking) beforehand, a practice mandated on all able Muslims. This is to ensure the less fortunate are able to celebrate Eid. The prayer of Eid ul-Fitr consists of a sermon followed by a congregational prayer, which is different from the mandatory five prayers a day.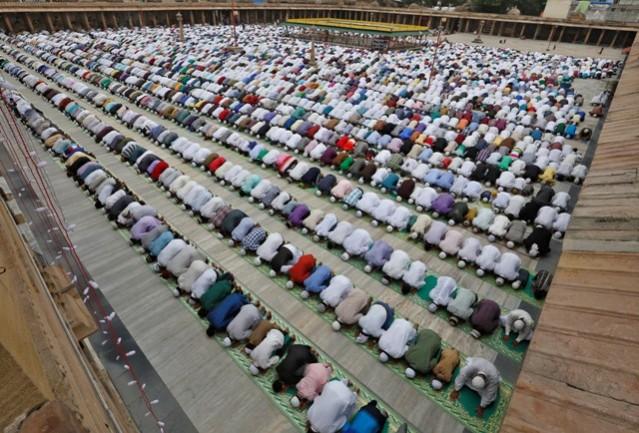 After the prayers of Eid al-Fitr, Muslims greet each other. Feasts are arranged throughout the day, family gatherings and celebrations are common in India.
How to wish someone on Eid?
A simple "Eid Mubarak" (Blessed Eid) suffices, but you can also include some verses from the Quran or other Islamic books.
Some popular ways to wish Eid to anyone are:
Kul 'am wa enta bi-khair! - (May every year find you in good health!)

Eid Saeed! — (Happy Eid)

Taqabbala Allahu minna wa minkum. — ( May Allah accept from us, and from you.)
Here are some Eid greetings you can choose from:
Before the golden Sun rises, let me decorate each of it's rays with wishes of success, prosperity and happiness for you and your loved ones! Eid Mubarak!

May Allah bless you always, make your dreams come true and be with you now and always. Eid Mubarak.

It's more than just an Eid wish, more than a message too. For it comes with warm and loving thoughts because it's meant for you.

The new moon has been sighted and it's the time to celebrate the end of Ramadan season. Wishing you the warm greetings of the festival. Happy Eid wishes to you and your family.