To mark the end of holy Ramadan month, Muslims all over the globe are preparing to celebrate Eid al-Fitr based on the sighting of the new moon. If the moon is sighted in India on Sunday, June 25, then the festival will be celebrated on Monday, June 26, else on June 27 and a day before in Saudi Arabia.
Check: When is Eid al-Fitr 2017?
It marks the beginning of the 10th month in Islamic calendar, Shawwal. As part of the Ramadan celebrations, people organise family get-togethers and prepare special dishes.
Also read: End of Ramadan 2017: Important events, prayers, and rituals to follow
During the holy month, which started on May 28, devotees fast from sunrise to sunset every day without even swallowing their saliva. It is done to commemorate the time when Quran was revealed to Prophet Muhammad.
Check: Top 10 songs to celebrate Eid
Check out verses from Quran to be shared with friends and family on the occasion of Eid al-Fitr here:
"O ye who believe! Fasting is prescribed to you as it was prescribed to those before you, that ye may (learn) self-restraint." — al-Baqarah, 2:183
"O you who have believed, decreed upon you is fasting as it was decreed upon those before you that you may become righteous." — Surat Al-Baqarah 2:183
"The best charity is that given to a relative who does not like you." — Fiqh-us-Sunnah:V3N100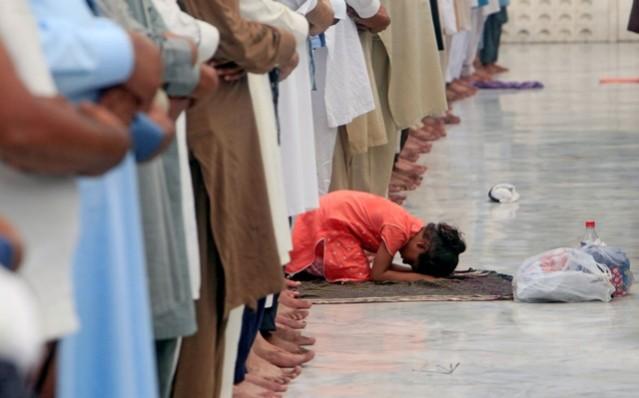 "Do good deeds properly, sincerely and moderately and know that your deeds will not make you enter Paradise, and that the most beloved deed to Allah's is the most regular and constant even though it were little." — Prophet Muhammad (s) as narrated by A'isha (ra) in Sahih Bukhari, vol. 8, hadith 471
"And whosoever fears Allaah and keeps his duty to Him, He will make a way for him to get out (from every difficulty)" — al-Talaaq 65:2
Here are some messages, wishes and picture greetings to be shared on Eid al-Fitr 2017:
Kul 'am wa enta bi-khair! — (May every year find you in good health!)
Eid Saeed! — (Happy Eid)
Eid Mubarak — (Blessed Eid)
Taqabbala Allahu minna wa minkum. — ( May Allah accept from us, and from you.)
Your sincere prayers,
your devotion,
your faith in Allah,
will make you a better human,
to serve this society
with wisdom and truth.
Happy Ramadan.
May you find your peace and happiness for all the fast and prayers to Allah. Have a peaceful and happy Ramadan.
The new moon has been sighted and its the time to celebrate the end of Ramadan season. Wishing you the warm greetings of the festival. Happy Eid 2017 wishes to you and your family.
May Allah always guide you all throughout your journey in life. I wish this Ramadan will infuse you with courage that will help you be triumphant over the adversities of life. Happy Ramadan.
Its more than just an Eid wish, more than a message too. For it comes with warm and loving thoughts because it's meant for you.
Before the golden Sun rises, let me decorate each of it's rays with wishes of success, prosperity and happiness for you and your loved ones! Eid Mubarak!
Do you know the meaning of EID?
E - Embrace with open heart
I - Inspire with impressive attitude
D - Distribute pleasure to all
May this Ramadan be as bright as ever.
May Allah bless you always, make your dreams come true and be with you now and always. Eid Mubarak.
May Allah's immaculate grace and exceptional wisdom
conquer your life as you celebrate this holy month of Ramadan.
Have a blessed and peaceful Ramadan!
Show forgiveness, speak for justice and avoid the ignorant. May the blessings you seek make you a better person. Happy Eid al-Fitr 2017.
Walk humbly; Talk politely; Dress neatly; Treat kindly; Pray attentively; Donate generously. May ALLAH bless and protect you!
He is the one GOD, the Creator, the Initiate, the Designer
To Him belong the most beautiful names...
He is the Almighty, Most Wise.
Wishing you a blessed Ramadan..!
Ramadan is the best chance to ask Allah for forgiveness. Thank him for his blessings and for keeping you alive till this moment.