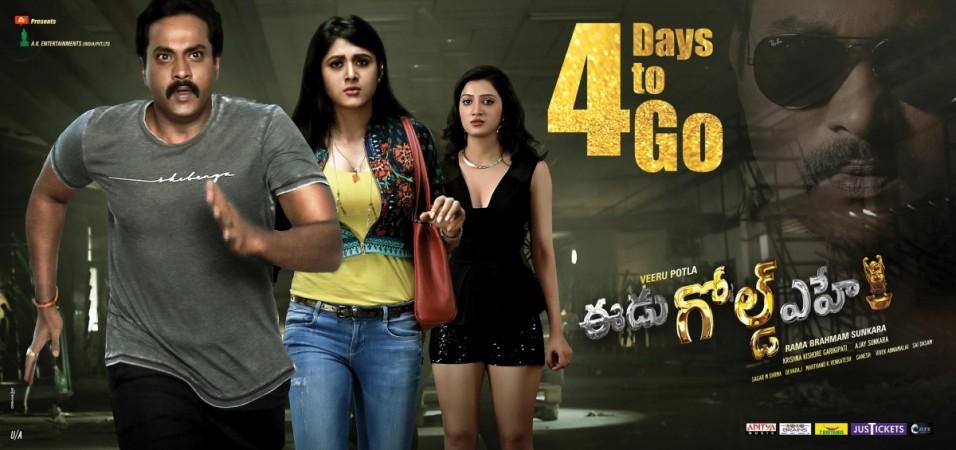 Director Veeru Potla's Telugu movie Eedu Gold Ehe featuring Sunil, Sushma Raj and Richa Panai in the lead roles, has received mixed reviews from critics and audience.
Eedu Gold Ehe is a romantic comedy film with other commercial ingredients to impress mass audience. Veeru Potla has written the story for the film about a couple harassed by a woman. Ramabrahmam Sunkara Srikanth has produced the movie under the banner AK Entertainments.
Bangarraju (Sunil) is an innocent guy, who always helps others. A robbery takes place at a criminal's house and CCTV footage shows that Bangarraju took gold artifacts. What happens next forms the crux of the story.
The viewers and critics say that Eedu Gold Ehe has a routine story, but its screenplay makes it a good watch. The first half is entertaining and the twist at the interval sets pace for the story, but the second half is not so engaging. Sunil has given a good performance and his chemistry with Sushma Raj and Richa Panai is the highlight of the movie.
We bring you some critics verdict and audience response shared on Twitter. Continue to see them in Eedu Gold Ehe movie review roundup:
123 Telugu Ratings: 3
Eedu Gold Ehe is a film which has some very interesting twists. Sunil's performance and decent comedy are some assets of this pakka commercial film which is aimed at the B and C centers. On the flip side, the lack lustre narration makes this film just an okay watch this festive season.
Vikas kanna ‏@Vikaskanna23
Completed 1st half #EeduGoldEhe very good mve fr @sunil after poolarangadu Entertaining and engaging 1st half Nd well written. Only songs are minus bt superb fun ride film #EeduGoldEhe @Mee_Sunil
@k#!L P$PK ‏@mad_bwoyy
Parvaledu first half #EeduGoldEhe time pass. Routine and boring second half...one f the heroin _/_ . Pridhvi and shakalaka shankar's comedy is good.over all an avg flick #EeduGoldEhe
R Vaitla @RVaitla
#EeduGoldEhe.....Good first half followed by routine and spoiled second half.... Humour worked to some extent. Watchable Once..!! #Average
Naveen ‏@Naveen5665
OK First Half..Bit Entertaining #EeduGoldEhe Below Second Half..Watchable Flick #EeduGoldEhe
KHAIDI NO 150 ‏@raghu_adapa
Good Entertaining 1st half #EeduGoldEhey So so second half....overal one time watch #EeduGoldEhe