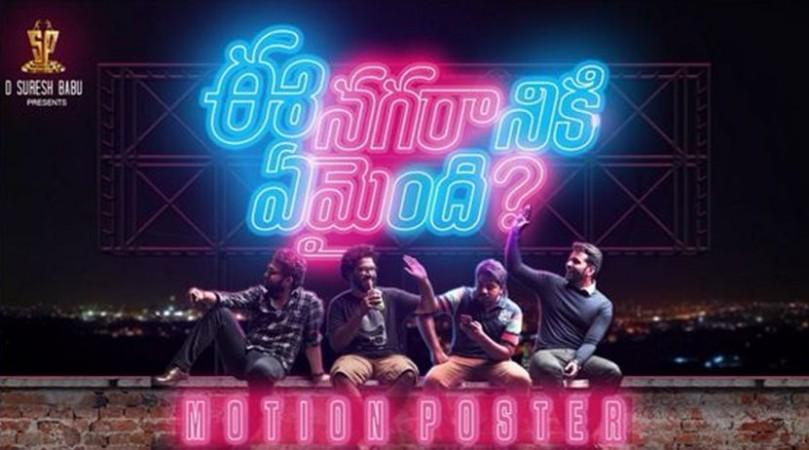 After Pelli Choopulu, director Tharun Bhascker is back with his next venture titled Ee Nagaraniki Emaindi and it has struck a chord with the film critics and received positive reviews and ratings from them.
Ee Nagaraniki Emaindi revolves around the story of four childhood friends (Abhinav Gomatam, Sai Sushanth Reddy, Venkatesh Kakumanu and Vishwak Sen) who are poor in their studies and behaviour. A weird incident brings them together in Goa after a long time and makes them participate in short filmmaking contest. What happens next forms the crux of the story.
Buddy comedy is one genre that has rarely been explored in the Telugu film industry. Tharun Bhascker chosen the genre and executed it well in Ee Nagaraniki Emaindi. The director has penned an engrossing screenplay. Through the second half of the film, he manages to engage the audience, say the critics.
Ee Nagaraniki Emaindi features newbies in the lead roles and Tharun Bhascker is successful in tapping out brilliant acting from all of them. The makers have also got decent production values and music, picturisation and dialogues are good, add the critics.
Ee Nagaraniki Emaindi has been rated an average of 3.25 stars from the critics. We bring you some critics' verdict and ratings for the movie. Continue to see them in review roundup.
IdleBrain Rating: 3
The movie starts off in a great fashion with terrific introductions of 4 main leads and their backstories. The story is about how two guys overcome their character flaws when they take a wacky holiday trip to Goa. Director Tharun Dhaassyam's debut film Pelli Choopulu was a universal film that has something for everybody. But, Ee Nagaraniki Emaindi is a niche film that is targeted at youth with a different style of narrative. First half is good and second half is slow. Don't expect Pelli Choopulu out of this film. On a whole, Ee Nagaraniki Emiaindi is a buddy comedy that has good moments and a slow second half!
Times of India Rating: 3.5
Make no mistake, Ee Nagaraniki Emaindi belongs to Tharun Bhascker. The filmmaker's flair for comedy once again shines through and his dialogues are terrific. Do yourself a favour and watch this film this weekend and laugh your heart out. The film may not have the happy ending that you would expect, but coming from a man who hates clichés, you wouldn't want it any other way.
The India Express Rating: 3
Ee Nagaraniki Emaindi makes an effort to be another reminder that 'life's too short to live someone else's dream.' Along with this advice, Tharun also embeds 'don't drink and drive' message in almost every other scene in the film. I counted Karthik alone speaking this statutory warning at least two times.
123telugu.com Rating: 3.25
With Ee Nagarainiki Emaindi, Tollywood steps into the buddy comedy genre which has been rarely explored. This movie has no great story but is filled with a lot of fun and precious moments which a group of buddies share in real life. The film will surely click with the younger generation as it has good relatable entertainment.
The News Minute
If you were waiting for a quirky buddy comedy in Telugu without obscenity, without compromising on humour and without being overly preachy about friendship, this is the one. Tharun Bhascker has pulled off what I thought is a Telugu-ized version of Dil Chahta Hai and Zindagi Milegi Na Dobara. And does it in a moderate budget, with great style.
Hindustan Times Rating: 3
Ee Nagaraniki Emaindi is a lot of things rolled into one. It is a coming-of-age film, buddy comedy and a road movie, but it is mostly about a happy ending.