Healthy homes make a healthy lifestyle, but if you think your homes are safer than the outside world, think again. Air pollution is a national concern and it is growing by the day. As WHO pointed out, 14 out of 15 most polluted cities in the world assessed by their PM 2.5 levels are in India. While the outdoor air quality has drastically declined over the years, it's not any safer to stay behind closed doors of your homes.
When the outdoor pollutants enter the home even when doors are shut, they get trapped and combine with dangerous indoor pollutants such as cooking fumes, cleaning products, pet dander and disintegrated feces, scented candles and paints, which makes it dangerous than outdoor air quality. Air purifiers have shot to fame after this revelation over the past year, and a UK-based company has a solution that will free us of the dangers of indoor impurities.
Dyson recently made its debut in India and it has launched two new products for the consumers that redefine house cleaning and purifying. Dyson Pure Cool air purifier and Cyclone V10 cord-free vacuum cleaner do not join the wide-range of existing products from other brands but set their own playing field with redefining technology.
Before we jump right into the products details, one must know Dyson products aren't cheap. The Cyclone V10 vacuum cleaner is priced at Rs 44,900 and the Air Cool air purifier costs Rs 36,900 for desk model and Rs 43,900 for the tower. These premium products have redefining technology that make them worth their price if consumers can afford it.
Let's start with the air purifier.
Dyson Air Cool air purifier
"To clean the air at home, a purifier needs more than a filter. It needs to automatically sense pollution, capture gases and ultrafine particles, and project clean air to every corner of the room," Paul Dawson, Vice President for Dyson Health and Beauty, said, adding that the Air Cool purifier does all of it.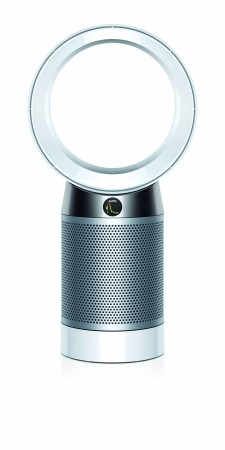 Dyson air purifier defies the existing air purifiers and their ideal lab testing methods and says the company uses POLAR test to accurately measure indoor air quality, where pollutants are 300 times narrower than a human air. Below are the key features of Dyson Air Cool.
Dyson Air Cool comes with an integrated display to show the particles and gases in your home in real time. That knowledge is put into use as the air purifier uses a 360-degree filter, which is split into HEPA and carbon layers separately.
According to the company, the air purifier can absorb 99.95% of particle pollution as small as 0.1microns 9, including allergens, bacteria, pollen and mould. In addition to that, there's a 350-degree oscillation that delivers 360 litres of purified air per second.
Interestingly, there are no blades in the air purifier, but it can still blow some cool air whilst purifying. But winters can get chilly and there's a way to diffuse airflow and have the air purifier work just on purification mode.
To get a better understanding of indoor air quality and how the Dyson air purifier works, there's an app for Android and iOS smartphones, which lets users monitor and control the purifier remotely. There are two colour combinations, Iron - Blue and White - Silver, and the purifier can be purchased from Amazon, Dyson official website and select stores.
Dyson Cyclone V10 cord-free vacuum cleaner
Moving on to the next product - Dyson Cyclone V10 vacuum cleaner, which redefines house cleaning methods. The tiring task of cleaning your house with a vacuum cleaner shouldn't be tedious, which is why the Cyclone V10 comes with a lightweight cord-free design yet powerful performance.
The Cyclone V10 is equipped with 14 cyclones that enable powerful suction and also separates ultra-fine dust particles into the bin. The vacuum cleaner captures 99.97 percent particles, even if they are as small as 0.3 microns and releases clean air hence acting as a filter.
Two separate heads for carpets and hard floors makes it easier to clean different surfaces. There are also seven additional tools suited to clean your sofas, mattress, and even your car.
Making the vacuum cleaner cord free was a reasonable choice, but raises questions on its runtime. According to the company, Cyclone V10 can run for 60 minutes with constant suction. The vacuum cleaner boasts improved electronics and battery system management for extended runtime.
We'll be testing these features as a part of our review of both Dyson products. Stay tuned for updates.