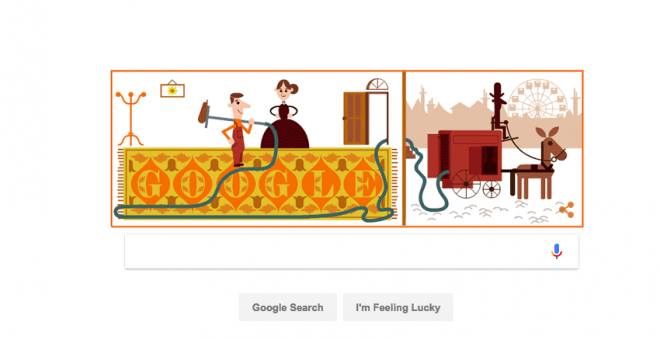 For Fourth of July celebration, Google this year did not impose something related to American Independence Day on all but chose to acknowledge the 147th birth anniversary of an English engineer, Hubert Cecil Booth, known for inventing one of the first powered vacuum cleaners.
Booth was born on July 4, 1871, in England and was educated at Gloucester College. After completing a three-year course in civil engineering and mechanical engineering, he studied as a student of the Institution of Civil Engineers. While working for Messrs Maudslay Sons & Field, Lambeth, Booth designed bridges, large Ferris wheels for several amusement parks in London, Vienna, and Paris.
Google's doodle captures the essence of Booth's first vacuum cleaner, which he nicknamed Puffing Billy. The short animation shows Booth's vacuum cleaner in the backdrop of factories and Ferris wheels.
Before Booth invented vacuum cleaner, the cleaning was usually done by blowers. After seeing an active machine, that blew the dust off the chairs, Booth imagined the possibilities of a machine if he will reverse the entire mechanism. Later, he tested his thought by putting his own handkerchief to his mouth and sucking the air through it. His idea gave rise to what would later be called "Puffing Billy."
In 1901, patent 17,433 were granted to Booth for cleaning of carpets and other articles by pipes, the nozzles of which were moved over them, the dust being collected, and being carried back outside the building.
Booth's first ever vacuum cleaner was a petrol-based, horse-drawn machine relied upon air drawn by a piston pump. His idea and the mechanism were an instant hit in England. However, the size of the machine was too big and given the constraints of using a horse, the idea was unfeasible to operate inside the buildings.
Booth hired some employees to drive the vans of British Vacuum Cleaner Company. The operators would route the pipes through the windows of a building to reach all the rooms inside.
He later replaced the internal combustion engine to an electric one, reducing the size of the machine but retained the mechanism in all its capacity.
After Booth's invention hit the market, other inventors, like William H. Hoover of Canton, Ohio, also developed vacuum cleaner. In just 50 years, the machine went on to become a standard home appliance around the globe.