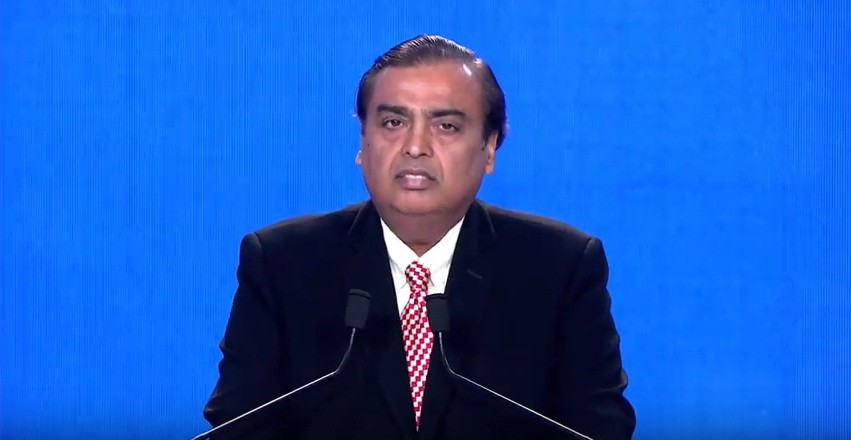 Mukesh Ambani sent a clear message to Bharti Airtel Chairman Sunil Mittal on Friday, December 1: Don't blame Reliance Jio for the industry's losses. He also said businesses must stop looking at regulators and governments to guarantee their profits.
Earlier this week, in an exclusive interview to the Economic Times, Mittal, the owner of India's largest telecom company, said: "Reliance Jio's prolonged free voice and data offers were a major reason for telecom companies writing off investments of up to $50 billion."
Speaking at the HT Leadership Summit in Delhi, Reliance Industries Chairman Mukesh Ambani said: "For all of us in the industry, I think profits and losses are risks that we take. I don't think we can rely on governments and regulators to guarantee our profits or losses."
He added: "To me, what is most important is did we move the country forward and does the consumer gain." To substantiate his statement, he said India has become the world's No 1 mobile broadband market, consuming more data than users in the US and China.
Calling Mittal a "friend," he said it is more important to find if the country and the consumers gained after Jio's launch.
"As long as the consumer gains and the country move forward, it is worth taking those losses... Some of us are big boys, we can afford that," Ambani added.
It's been a little more than a year since Reliance Jio Infocomm was launched, and it currently has over 138 million users. The offers Reliance provided its customers — from free calls to dirt cheap mobile data through new fourth-generation wireless service — are behind this growth.
As Reliance Jio continues to gain market share, older players such as Airtel, Vodafone, Idea have been forced to cut tariff. Reliance's entry in the telecom industry has also triggered consolidations in the space: Idea merged with Vodafone India, Airtel acquired Tata Teleservices (Tata Docomo).
The RIL chairman predicted that India will be ahead of the US in terms of data infrastructure by 2019. "As we move forward, we think of more difficult issues that create value. Agriculture is difficult, education is important, and healthcare is most difficult and we will think about what we can do in each one of these areas," Ambani said.
"As Internet becomes accessible to all Indians, I believe we will be among the first to graduate to the Internet of Everything," he added.