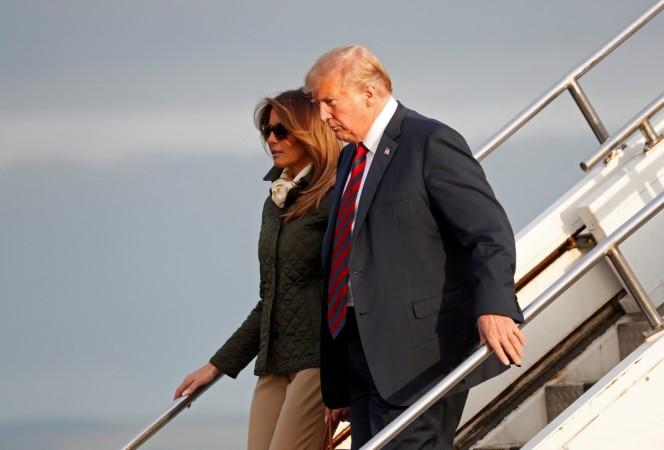 Donald Trump has arrived in Scotland, hoping for a relaxing weekend of golf, but it seems like it will be anything but as he was greeted by thousands of protestors.
The US President openly said he skipped visiting London over the protests that made him feel "unwelcome", but now it seems like he will have to bear the hostilities if he is to spend the weekend at his golf course in the country.
The President and First Lady Melania Trump touched down at the Prestwick Airport at 10:10 pm on Friday after completing his two-day working trip to the UK, as per the BBC. Upon arrival, the President was received by Scottish Secretary David Mundell, who said he was "pleased to greet Trump on behalf of the UK government".
Trump, whose mother was Scottish, will spend the weekend at his Turnberry golf resort in Ayrshire in what has been described as a private visit. He is also expected to prepare for his upcoming summit with Russian President Vladamir Putin in Helsinki, scheduled for July 16.
Trump has no plans to meet any Scottish ministers, but he will be very keen to avoid First Minister Nicola Sturgeon, who has been a vocal critic of the US President. Sturgeon is slated to lead thousands of marchers at the Pride Glasgow march on Saturday.
Ahead of his arrival, thousands of protestors filled the Geroge Square in Glasgow with banners and posters against Trump. Shortly after Air Force One landed at Turnberry, a powered paraglider was spotted flying close to the resort with a banner which said "Trump: Well below par".
A "national demonstration" will gather outside the Scottish Parliament in Edinburgh on Saturday, with protesters walking to the Meadows for a "carnival of resistance". The carnival will feature the giant Trump Baby balloon, which has been banned from both Turnberry and the Scottish Parliament.
Huge numbers of protesters also marched through the streets of London as Trump met Prime Minister Theresa May and the Queen earlier on Friday.
Trump has often spoken of his love for Scotland and its people and had been a regular visitor to the country for many years, but this is his first trip since becoming president.