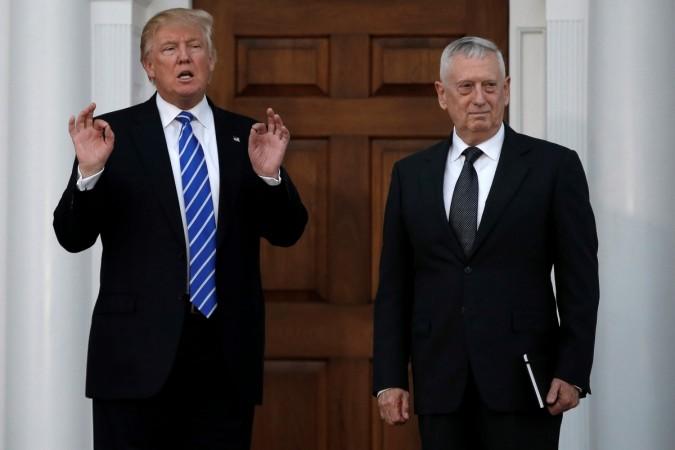 United States President-elect Donald Trump on Thursday announced General James Mattis' selection as Secretary of Defence under his administration. Mattis is a former marine who served in Iraq and Afghanistan and had said that responding to "political Islam" is the major security issue America is currently facing.
Trump made the announcement while delivering a speech at the beginning of USA Thank You Tour 2016 for his supporters in Cincinnati, Ohio.
"We are going to appoint Mad Dog Mattis as our Secretary of Defence. He's our best. They say he's the closest thing to General George Patton [World War Two commander] that we have," Trump told the crowd.
The President-elect, however, joked and said that the crowd and the media should not disclose the news to others as he has not made the formal announcement yet. "We are going to be announcing him Monday of next week. Keep it inside the room. Don't let it out of this room, promise," he said.
General Mattis, 66, is also known as Mad Dog and is a critic of Obama administration's Middle East policy, especially on Iran. He last served as the 11th commander of United States Central Command from August 11, 2010 to March 22, 2013. Mattis has called Iran "the single most enduring threat to stability and peace in the Middle East."
A retired chief of the US Central Command, Mattis believes that Washington lacks an overall strategy in the Middle East. He had said that the government' one-by-one handling of the issues in the region is ineffective. Mattis is known as one of the most influential military leaders of his generation. He has frequently drawn rebuke for his aggressive manner of talk.
Mattis led an assault battalion during the first Gulf war in 1991 and was a commander of a task force in southern Afghanistan in 2001. He also participated in the invasion of Iraq in 2003 and played an important part in the Battle of Fallujah. The General retired in 2013 after serving as the commander of the US Central Command for four years.
There is a federal law in the United States which states that the defence secretaries must not have been on active duty in the last seven years. Considering this, Mattis will have to urge the Congress to pass legislation to bypass the law. The Congress had granted a similar exemption in 1950 when General George C Marshall was appointed as the Defence Secretary.