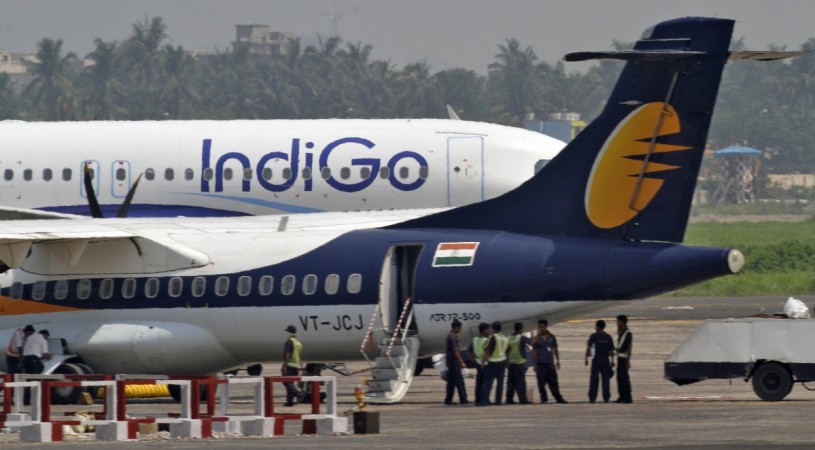 Air India, IndiGo, Jet Airways, SpiceJet, GoAir, AirAsia India and Vistara flew about 83 lakh (8.3 million) passengers during the month of August, an increase of 24 percent over the same month last year.
According to the data released by India's civil aviation regulator, domestic carriers had flown 67 lakh (6.7 million) passengers in August 2015.
Market Share
IndiGo continued to lead as the largest carrier with a market share of 39.9 percent, up 0.1 percent since July. State-carrier Air India's market share went down 0.2 percent and clocked 14.6 percent last month as against 14.8 percent in the previous month (July).
Full-service carrier Jet Airways witnessed marginal increase in its market share to 16.4 percent from 16.3 percent since July. Similarly, during the same month, SpiceJet, which is a budget carrier, also saw 0.9 percent rise in its market share to 12.6 percent as against 11.7 from July.
Go Air's market share declined 0.4 percent and the airline clocked 8.0 percent during the month of August as against 8.4 percent in the previous month.
Small players such as Vistara (which is co-owned by Tata Sons) also witnessed a fall in its market share by 0.2 percent. In August, its market share fell to 2.4 percent from 2.6 percent in July. At the same time, Air Costa recorded a fall of 0.1 percent with a market share of 0.7 percent during August, according to the data disclosed by the Directorate General of Civil Aviation (DGCA).
However, Air Asia India retained its share at 2.2 percent from the previous month.
Passengers Load Factor
SpiceJet improved its passenger Load Factor (PLF) to 93.2 percent from 92 percent in the previous month even as most of the other carriers saw a decline. This was followed by Go Air at 86 percent, down from 90.3 percent in July. Similarly, AirAsia India also saw a dip in PLF to 83.3 percent from 85.7 percent in the previous month.
Government-owned Air India's PLF was recorded at 77.7 percent. IndiGo's passenger load factor went down by 1.5 percent. In August, the airline's PLF was 82.1 percent, down from 83.6 percent in the previous month. Jet Airways' PLF stood at 81.7 percent.
New entry carriers Air Costa and Vistara's passenger load factor was 70.8 percent and 69.2 percent, respectively, according to the DGCA data.
Airlines stock
On Tuesday, InterGlobe Aviation stock was trading 0.26 percent down at Rs. 862.40 on the BSE at around 1.50pm, while shares of SpiceJet and Jet Airways were trading with losses of 0.80 percent and 0.53 percent, respectively.