The Chinese media on Monday said that the Narendra Modi government was behaving as "naive" as the Jawaharlal Nehru government did in 1962. It added that war would be "inevitable" if India continued to ignore China's warnings to immediately withdraw troops from Doklam.
Also Read: This is how world media reacted to Doklam conflict between India, China
In a one-minute-42-second video posted on the state-run Global Times website, editor-in-chief Hu Xijin said: "New Delhi isn't preparing for the worst but rather is teaching Indian citizens to just hope for the best. Is the Indian government like a church leading its citizens in prayer?... "If India keeps ignoring China's warnings, war is inevitable."
Also read: Doklam: Despite PM Modi's bear hugs, why isn't US coming openly to India's support?
Referring to Indian media reports stating that security authorities are reasonably sure China wouldn't risk starting a war or a small-scale military operation, Xijin said: "Of course, China doesn't want war. We hope to restore peace and to get along with one another. That really goes without saying. But if Indian forces continue to hang around on Chinese soil, that's something completely different. I am very surprised that Indian security authorities would say otherwise. And make such guarantees to the media that China wouldn't take military action."
He added: "If Indian security authorities want to trick the (Narendra) Modi administration, I think the war will be hard to avoid. Because this means India is emboldened enough not to heed China's warning, leaving war as the only possible solution left. In 1962, the Nehru government was confident that China wouldn't strike. India is as naive now as it was back then. What a curious country."
China downplays 'small-scale military operation'
Contrary to Xijin's remarks that war would be "inevitable" if India ignores China's warnings, a top official of the country's People's Liberation Army (PLA) refused to support such claims saying that it "represents the view of the media and think-tanks."
"This kind of reports represents the view of the media and think-tanks. For official information please refer to the statements of the foreign ministry and defence ministry spokespersons," China's Defence Ministry's spokesman Sr. Colonel Ren Guoqiang said during a two-hour long interaction with the Indian media delegation in Beijing.
However, Guoqiang did reiterate the Chinese government's position that India must withdraw its troops from Doklam in Sikkim "unconditionally" if it wants to prevent the standoff from escalating and talks to take place. He also said that Doklam belonged to China and that it has "ample legal and historical proof" for the same.
The colonel's remarks came when he was asked about a report in the Global Times, which quoted a think-tank as saying that China was contemplating a "small-scale military operation" against Indian troops in Doklam within two weeks.
"China will not allow the military standoff between China and India in Doklam to last for too long, and there may be a small-scale military operation to expel Indian troops within two weeks," Hu Zhiyong, a research fellow at the Institute of International Relations of the Shanghai Academy of Social Sciences, was quoted as saying by Global Times on August 5.
Zhiyong had said that the military operation would aim to "seize Indian personnel illegally lingering in Chinese territory or to expel them" and that the "Chinese side will inform the Indian Foreign Ministry before its operation."
Colonel Guoqiang also raised questions on India's silence over China's plans to build a road in Doklam despite the country having informed India about the activity twice, first on May 18 and then on June 8, through the border meeting mechanism set up to resolve disputes.
Take help of friends to resolve standoff: Congress
Congress on Monday said that the Modi government should try to broker peace on the international border by taking the diplomatic route and asking old friends like Russia to make sure that China withdraws troops from Doklam,
"If we lose Doklam, there is every possibility that we may lose the Northeastern states to China... A face-off between India and China has never happened in the Sikkim sector. The sector is important for our national security," Congress spokesperson Ajay Kumar said at a press conference on Monday.
Kumar also criticised the central government for failing to deal with the repeated attempts made by China to enter into Indian territory. "The government has itself admitted that China had entered into our territory 240 times last year but did not take any step to check it," he said.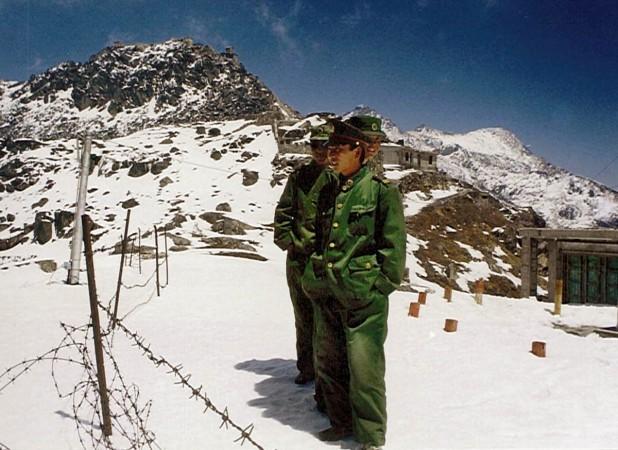 Kumar, however, also appreciated India's position on the Doklam standoff and urged all political parties to support the Narendra Modi-government and "exhibit unity" on the matter to give a "befitting reply" to China.
Doklam standoff
India has been involved in a military standoff with China for over 50 days now. It began on June 16 after China accused Indian troops of entering Doklam and stopping Chinese troops from constructing a road in the area. However, India responded by saying the border dispute is yet to be resolved and that China should "desist from changing the status quo".
India also accused China of building roads on the India-China-Bhutan tri-junction and its People's Liberation Army (PLA) of intruding into Indian territory through Sikkim and destroying bunkers, while China has claimed India is provoking them and the issue can be resolved only if India withdraws its troops.
India fears that the road-building activity would allow Chinese troops to cut its access to the seven states in the Northeast.