For employees working at IT software services companies, the bad news about layoffs could be potentially worse than has been reported so far. They could be staring at about 6 lakh job cuts in the next two to three years, with many senior professionals likely to suffer the most, according to the chief of a hiring firm.
"The digital tsunami will trigger jobs cuts in a big way in the IT industry that employs about 40 lakh people...about 24 lakh of them will have to be re-trained...but there are limitations here," Kris Lakshmikanth, chairman and managing director of Head Hunters, told International Business Times, India edition, on Sunday.
"Out of these 24 lakh employees, only about 50 percent, or approximately 12 lakh, can be re-trained and about 6 lakh can manage with existing skills. The rest, approximately 6 lakh, will lose their jobs over the next three years," he added.
He based his assessment on a report presented by McKinsey & Company at the Nasscom India Leadership Forum in February.
He said senior managers, typically earning about Rs 25 lakh or more per annum, would be the worst hit. "Even if they are willing to take a salary cut, not many will be willing to hire them," Lakshmikanth said.
"My inferences are based on the McKinsey report and discussions with top executives of IT companies," he added.
The layoff wave, so to speak, will impact those employed in telecom and banking sectors also, he added.
Read: HDFC Bank Q4 net profit rises 18%, employee strength falls by 6,000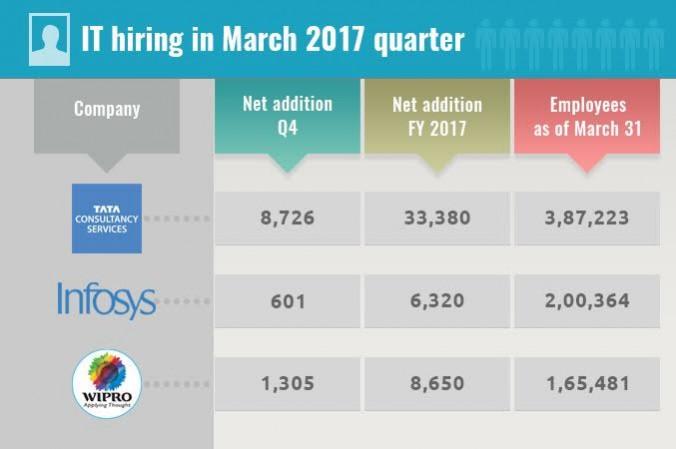 In the past few days, the number of jobs under threat has been hovering around 56,000, though the numbers could not be confirmed. Lakshmikanth's assessment puts it at around 2 lakh every year.
Wipro had issued a statement on reports of layoffs. "Wipro undertakes a rigorous performance appraisal process on a regular basis to align its workforce with the business objectives, strategic priorities of the organisation, and requirements of our clients.
"This systematic and comprehensive performance evaluation process triggers a series of actions such as mentoring, retraining and upskilling. The performance appraisal may also lead to the separation of some employees from the company and these numbers vary from year to year."
In response to another report that hinted at potential layoffs running into huge numbers — around 10 percent of its 1,65,000 IT employees — the company dismissed it by saying, "These rumours have no basis."
Infosys COO U B Pravin Rao had recently came out with a statement on exits at the company. "I would like to put to rest any speculation around planned layoffs. As has been the case in the past, we will primarily see some performance based exits," Rao had written in a communication to his employees on May 10.
Nandita Gurjar, former HR head and senior vice-president of Infosys, told International Business Times that it will be a trade-off between retaining jobs and salary hike. "But it (quantum of hike) won't be the same as in earlier years," she said.
The situation is grimmer for freshers, according to her. "I am more worried about them. They would have education loans...suddenly they would realise that their IT dreams are being shattered," she said on the sidelines of an event in Bengaluru on Friday.
Lakshmikanth also said that hiring of freshers by IT companies has gone down sharply.
There is also a positive view to the digital tsunami, according to him. "I was talking to the chairman of one of the top 10 IT companies today in Mumbai, conducting interviews for digital positions. So, recruitments are also happening, but for different skill sets," he said.