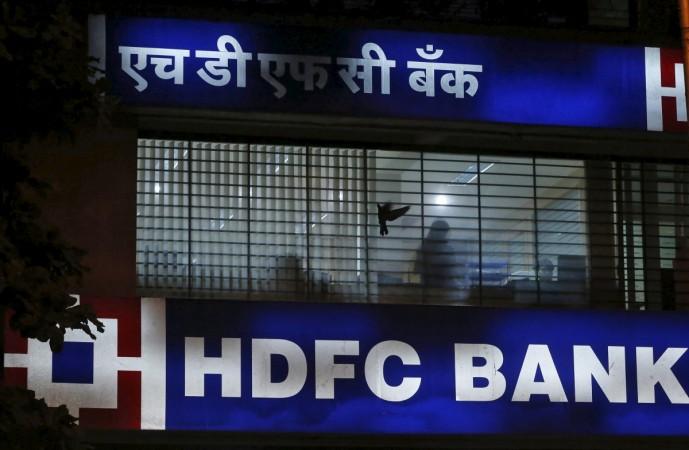 Update:
HDFC Bank shares were trading with gains of 1.44 percent at Rs 1,483 crore after the private sector lender reported 18.25 percent rise in March 2017 (Q4) net profit to Rs 3,990 crore from Rs 3,374.22 crore for the corresponding period last year. This despite the bank's provisioning for bad loans spiking by more than 100 percent to Rs 1,262 crore during Q4 from Rs 662 crore in the fourth quarter last fiscal.
The number of employees stood at 84,325 as of March 31, 2017, down 6,096 from 90,421 as of December 31, 2016.
Net interest income grew 21.1 percent YoY to Rs 12,501 crore from Rs 10,319.2 crore in the year-ago period.
Total income stood at Rs 21,560 crore, up 14.3 percent from Rs 18,862 crore, YoY. Other income (non-interest) increased 20.3 percent to Rs 3,446 crore.
Gross non-performing assets (NPAs) and net NPAs stood at 1.05 percent and 0.33 percent, respectively, as of March 31, 2017, almost unchanged on a sequential basis but up from 0.94 percent and 0.28 percent, respectively, as of March 31, 2016.
The HDFC Bank board recommended a dividend of Rs 11 per equity share, up from Rs 9.50 per share for fiscal 2016.
Deposits stood at Rs
As of March 31, 2017, the bank had 4,715 branches and 12,260 ATMs.
Original story:
HDFC Bank were trading with modest gains on Friday ahead of quarterly and full-year results. The scrip was up 0.48 percent at Rs 1,469 on the BSE at around 12.30 pm.
The private sector lender's provisioning for bad loans will be interesting in the context of two other private banks — Yes Bank and IndusInd Bank — earmarking a higher amount for non-perforning assets (NPAs), in line with the RBI's asset quality review norms.
As of December 31, 2016, HDFC Bank's gross and net NPAs stood at 1.05 percent and 0.3 percent of total advances.
Yes Bank, which reported its results recently, had to set aside an additional Rs 228 crore in anticipation of likely losses arising from its exposure to Jaiprakash Associates Ltd.
"As of 31 March 2017, the impact of divergences overall is at Rs 1,040 crore on which we have made 25% provisioning. This includes one borrower exposure of Rs 911 crore towards a Delhi-based cement company. However, this is a performing asset which has been servicing interest regularly. We expect to recover the amount in the near term," Rana Kapoor, MD and CEO of the bank said, without naming the company.
The exposure to Jaiprakash Associates and the consequent increase in higher provisioning was also the case for IndusInd Bank. "Provisions were elevated at INR4.3b as they included one-off amount of INR1.22b on a bridge loan for a cement M&A transaction (account remains standard), where the receivable is in June (likely to get reversed in 1QFY18)," brokerage Motilal Oswal Securities said in a note.
The optimism for both the banks stems from the fact that Jaiprakash Associates had signed a deal with Aditya Birla Group company Ultratech Cement valued at Rs 16,189 crore for sale of its cement assets.
Here is the video clip of HDFC Bank's concall post declaration of Q3 results: