Wipro and Infosys are in the news over reports of layoffs, after Cognizant Technology Solutions (CTS) and Capgemini made headlines for the same reason. The two Bengaluru-based Indian IT companies have responded to media reports in two separate statements, amid concerns of the $150-billion industry facing multiple headwinds potentially affecting revenues, margins and employees.
Wipro
A few days ago, news agencies had reported that the Azim Premji-led company had "sacked" more than 500 employees. In a statement to International Business Times, India edition, Wipro said exits are part of an annual exercise during performance appraisal.
"Wipro undertakes a rigorous performance appraisal process on a regular basis to align its workforce with the business objectives, strategic priorities of the organisation, and requirements of our clients," the statement said. "This systematic and comprehensive performance evaluation process triggers a series of actions such as mentoring, retraining and upskilling. The performance appraisal may also lead to the separation of some employees from the company and these numbers vary from year to year."
In response to another report that hinted at potential layoffs running into huge numbers — around 10 percent of its IT employees — the company dismissed it by saying, "These rumours have no basis."
Wipro had added 8,650 employees on a net basis to take the IT headcount to 1,65,481 as of March 31, 2017.
Infosys
India's second-largest IT software services exporter said separation is one of the outcomes of performance appraisal in some cases. "Our performance management process provides for a bi- annual assessment of performance... A continued low feedback on performance could lead to certain performance actions, including separation of an individual and this is done only after feedback," news agency PTI quoted an Infosys spokesperson as saying in a statement.
The gloom is not applicable for its centres in the US where it plans to hire around 10,000 American workers over the next two years and open four technology centres to tackle H-1B visa worries.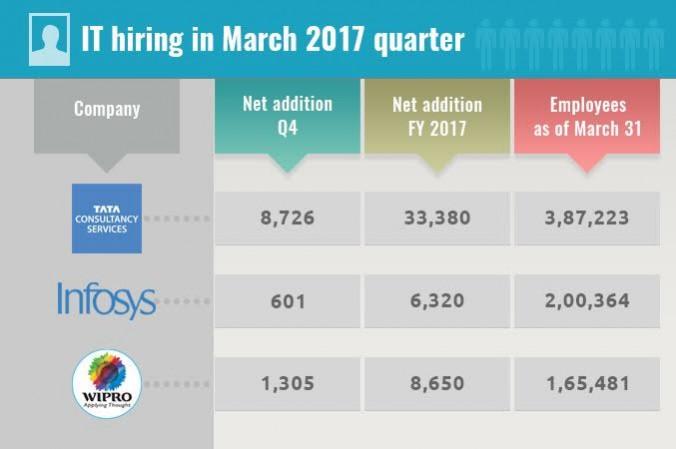 Capgemini and Cognizant
In response to reports that jobs of about 9,000 employees are at stake, including those at its acquired company iGate, Capgemini told International Business Times, India edition, on Tuesday that they are far from true. "The figures reported in the article published today – including the reference to Igate – are unfounded. We have not announced any lay off plan," the French company said in a statement.
But the denial was accompanied by another statement.
"Each year our employees are evaluated based on strict performance criteria in an objective process, consistent with industry norms, to ensure we are aligned with our customer needs, business priorities, and the overall industry evolution. This leads naturally to a varying number of employees transitioning out of the organization in any given year."
Cognizant was also in the news for a few days with regard to layoffs.
The number is said to be from 6,000 to as high as 10,000. The company had an employee strength of 2,44,300 employees worldwide, including 1,55,000 in India, where it has development centres spread across many cities.
For the full year 2016, Cognizant revenues grew 8.6 percent YoY to $13.49 billion while net profit dropped to $1.55 billion from $1.62 billion in calendar year 2015.
At around 10.10 am on Wednesday, Infosys shares were trading almost flat at Rs 948 apiece while Wipro was down 0.64 percent to Rs 505. TCS was also flat at Rs 2,334.
Other IT services companies include Tech Mahindra, Zensar Technologies, Mindtree and HCL Technologies.
The BSE Sensex was up 247 points, or 0.83 percent, at 30,180, led by Hindustan Unilever and Bharti Airtel.
Interglobe Aviation, which owns budget carrier IndiGo, was down 2.38 percent to Rs 1,113 in response to weak Q4 results declared the previous day. SpiceJet was almost flat at Rs 123.