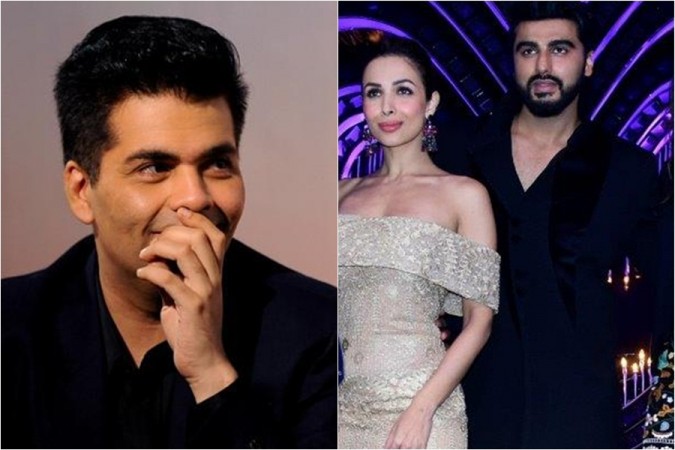 There are reports that Malaika Arora and Arjun Kapoor have decided to get married in 2019. While there is no confirmation about their impending marriage, her friend Karan Johar seems to have dropped a major hint on his celebrity chat show Koffee With Karan season 6.
On the Sunday episode of KWK 6, Karan Johar made Malaika blush yet again when she made a special appearance on the show which saw Aamir Khan as a guest.
During the show, when Aamir and KJo walked her down, Malaika thought that the two will break out in a dance with her. But KJo, who is known for his inimitable wit, replied to Malaika saying, "We are walking down the aisle... that will also happen in your life soon enough."
To which Malaika, who went all red upon hearing it, replied, "Stop it now... stop now."
This is not the first time KJo has teased Malaika about her impending marriage with Arjun Kapoor. On the sets of India's Got Talent, KJo had asked Malaika a burning question "who did you spend your birthday with?" And Malaika smartly dodged the question and said, "Let that remain a burning question" and had smiled away.
Malaika and Arjun have been making several public appearances together and it seems like the two have decided to let the chickens out of the coop. A few days ago, they were spotted at the Mumbai airport after celebrating the former's 45th birthday in Milan, Italy.
After that, the two recently were seen partying hard with their close people Amrita Arora, Karisma and Kareena and Natasha Poonawalla, where they didn't shy away from getting pictured together. In the picture, Malaika was seen leaning back on Arjun and Karisma while others also shared a frame with them.
And now going by KJo's words, we may soon hear wedding bells ringing for Malaika and Arjun.