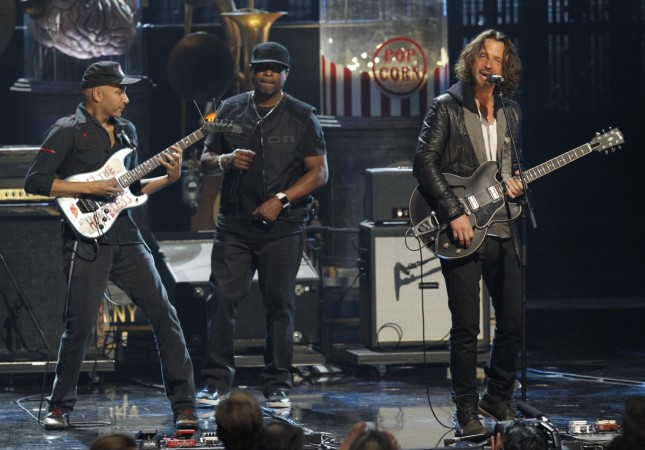 After the news broke out that Chris Cornell was no more, the cause of his death was revealed that he committed suicide. This decision shocked the music fraternity. But did the musician hint about his mental state as he played what turned out to be his last song during his last tour?
An eerie connection between the Soundgarden singer's death and the last song he performed at the Detroit concert on Wednesday has come to light. It looks like Cornell hinted about ending his life through his last song, titled Dead Wishes, and through a tweet that was posted before the news of his death broke out.
Also Read: Chris Cornell dead: Soundgarden and Audioslave lead singer dies at 52; celebrities mourn his demise
In a bizarre choice of songs for the performance, the singer "coincidentally" (or was it on purpose?) chose to end the night with his 2015 release, Dead Wishes. The song's lyrics convey the feelings of a person dealing with depression who is ready to end his life.
Even during the show, fans tweeted that the singer dropped lines like "I feel bad for the next city," and many attendees of the last concert revealed that he looked like he was soaking it all in, performing in Detroit Rock City for one last time.
And as if that was not enough, his final tweet was the picture of the Fox Theatre in Detroit, where his last performance took place. He tweeted: #Detroit finally back to Rock City!!!! @soundgarden #nomorebullshit"
The tweet seemed like an usual update to fans who avidly follow him on his social media handle, and no one thought that moments after the tweet, he would choose to hang himself.
According to the videos that have hit online, Cornell appeared to be out of his usual style and looked lost.
The Twitter handle is now a site for condolence messages as fans are unable to share their dismay elsewhere.
Rest in Peace, Cornell, everyone's going to miss you.