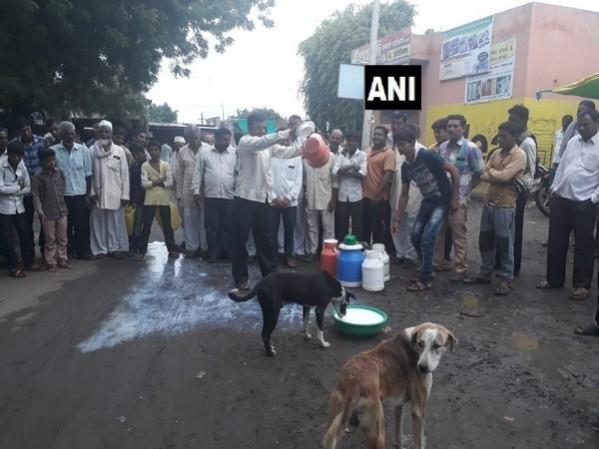 The agitation of dairy farmers in Maharashtra, which has entered day 4, is beginning to cripple services in major cities in the state, including Mumbai, where milk supplies may halt on Friday if the government does not intervene.
Lead by the Swabhimani Shetkari Sanghatana (SSS), dairy farmers in the state are pushing the government for a minimum guaranteed procurement price of Rs 25 per litre, or a subsidy of Rs 5 per litre. The Maharashtra government, lead by state irrigation minister Girish Mahajan is currently in talks with the SSS to arrive at a solution.
So far, dairy supplies have not caused havoc in major cities, due to available stock. The strike that began on Monday has caused a 20 percent drop in milk supplies, but that number is expected to jump sharply after existing stocks are close to draining out in light of the protest.
SSS leader Raju Shetti has asked the government to adopt any one of the two demands in his meeting with Mahajan. Chief Minister Devendra Fadnavis has also stepped in and is due to meet all major milk societies, both private and cooperative on Thursday in Nagpur to debate the farmers' demands.
Shetti has further proposed that the government can increase the export incentive subsidy of Rs 50 per kilo for skimmed milk powder.
Thursday morning saw the agitation increase, with families of dairy farmers taking their cattle and blocking state highways in Solapur and Kolhapur. The blockage is expected to stifle movement of other key commodities in the state, apart from regular traffic. Shetti has accused the government of arresting farmers all over the state to disrupt the agitation.
Despite being the seventh highest producer of milk in the country, Maharashtra's milk farmers are the lowest paid as per the National Dairy Development Board (NDDB). Corporative sector farmers fair better than the private sector, which pays even less. Currently, the procurement price in the state for the cooperative sector is around Rs 18 per litre.