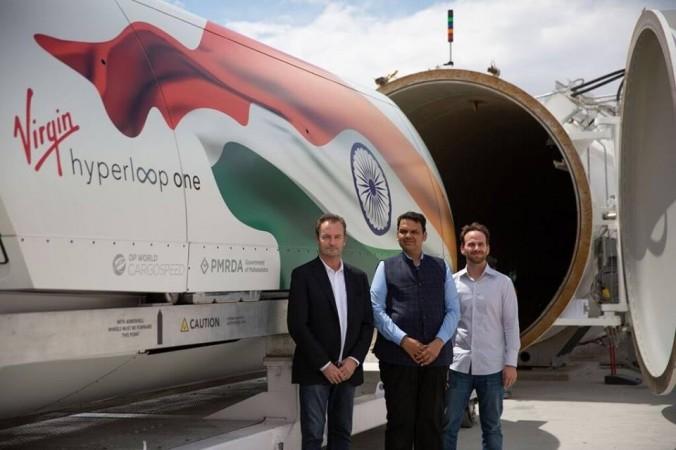 Maharashtra Chief Minister Devendra Fadnavis paid a visit to one of the test sites of Virgin Hyperloop One in Las Vegas.
Fadnavis' visit to Nevada was a follow-up to the memorandum of understanding signed by the state government with the Richard Branson-led company to build the Mumbai-Pune Hyperloop, an official said on Saturday.
Accompanied by the company CEO Rob Lloyd, the chief minister studied the demonstration track and discussed the feasibility of fast-tracking the deploying roadmap for the technology in Maharashtra.
The state government and the company have already completed the pre-feasibility study on this. A 15-kilometer stretch of demonstration track has been identified which may be constructed next year.
After the tests succeed, the fully electric Hyperloop, planned on what is believed to be one of the busiest routes in the world, will be constructed within four years at an estimated cost of a whopping Rs 20,000 crore.
From 3 hours to 25 minutes
The project is expected to reduce the travel time between the state capital and India's financial capital from the current three hours to just 25 minutes. The Hyperloop will also ease congestion on the existing Mumbai-Pune expressway, reduce greenhouse effects and accidents.
Branson, who attended the Magnetic Maharashtra Summit in February in Mumbai, spoke about the futuristic technology - a near-supersonic mode of surface travel in a vacuum - not yet implemented anywhere in the world.
Besides Maharashtra, the Virgin Group will also examine other potential routes or sectors in the country, their economic impact and technical viability of deploying the sophisticated Hyperloop transportation technology in India.
The Hyperloop is a mode of transportation first described by Elon Musk in a white paper. The Hyperloop consists of small pods running in near-vacuum tubes at great speeds.
[With inputs from IANS]