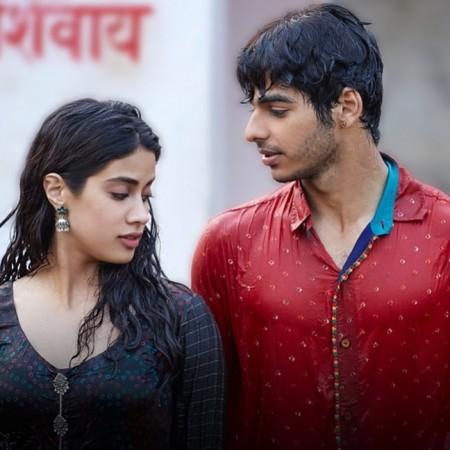 Janhvi Kapoor and Ishaan Khatter starrer Dhadak, which is an official remake of 2016 Marathi blockbuster Sairat, opened in theatres with a lot of anticipation on July 20. However, the Shashank Khaitan directorial has garnered mixed reviews from critics.
Set in Rajasthan, Dhadak follows the love story of a rich upper-class girl Parthavi (played by Janhvi) and a middle-class boy Madhukar (Ishaan). But it left out the heart and soul as it barely scratched the surface of casteism and politics that was unabashedly shown in the Nagraj Manjule directorial.
Those who have not seen Sairat have lauded Dhadak and its heartwrenching climax while those who had watched the Marathi gem, heavily criticised the film saying it lacked the zing which the original boasted of.
Critics have already given their verdict and it now remains to be seen whether it will help Janhvi and Ishaan to take off with flying colours in Bollywood or not.
Shubhra Gupta of The Indian Express: Remaking Sairat for mainstream Bollywood was always going to be a tough ask. The edges of that searing 2016 tale of love-in-the-time-of-caste were necessarily going to have to be blunted and softened, because too much 'realism' is hard for us to handle. What I was expecting from this Karan Johar production, I got– a polish-up-the-muck aesthetic to make it palatable for mainstream audiences. What I didn't get, was feeling.
Rachit Gupta of The Times Of India: While Parshya and Archi's love story in Sairat was made with great honesty, realism and depth, giving us a perspective of the deep rooted prejudices in our society, Dhadak touches upon them too, but it merely skims the surface.
Rohit Vats of Hindustan Times: At 137-minute duration, it's not as powerful as the original, but could be a good watch for audiences looking for decent fresh faces.
Meena Iyer of DNA: The nice thing about Dhadak is that it neither overwhelms nor underwhelms you. It pushes all the right buttons and when you leave the theatre, you are satisfied. The climax (which we can't reveal) is short yet spellbinding.
Udita Jhunjhunwala of Scroll.in: Without revealing any spoilers, suffice to say it does not deliver the punch that left you winded while watching Manjule's tragic tale, and you wonder if the reimagining was necessary. Yet, within the ambit of Bollywood, Dhadak is a watchable film that goes beyond the initial curiosity factor to stand on its own legs.
Rohit Bhatnagar of Deccan Chronicle: Dhadak might be a much anticipated film of the season, but it is nothing more than a launchpad for Ishaan and Janhvi Kapoor. Rather watch Sairat for realistic cinema.
Saibal Chatterjee of NDTV: The film saunters rather than sprints. In Sairat, that strategy clicked famously because that film had its heart in the right place. Dhadak doesn't. The result is a grind that pretty frames and fresh faces cannot mitigate.