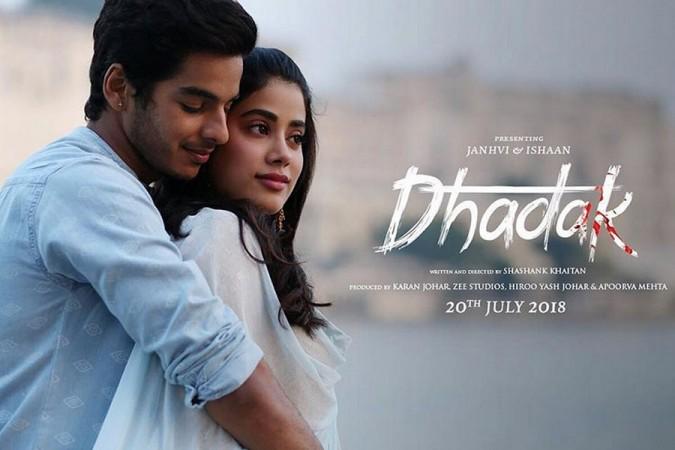 Dhadak, the much talked-about Dharma Productions film, starring Janhvi Kapoor and Ishaan Khatter, releases in theatres on Friday, July 20, 2018. International Business Times, India got to see the film in a special screening a day before. Viewers came out smiling with the result, and of course, feeling sad for the outcome of the tragic love story.
Directed by Shashank Khaitaan, Dhadak has a lot of expectations from the audiences to fulfill, being an official remake of the Marathi blockbuster Sairat (2016) that won several awards and even a Special Mention at the National Film Awards for its then 14-year-old actress Rinku Rajguru. Is Dhadak along the same lines as Sairat? Here's our full movie review of Dhadak.
Countless remakes of South Indian and even Marathi films have been made in Bollywood over the years, with many of them doing well at the box office. But Dhadak is a remake to look out for, as it is a Dharma Productions film. Dhadak has the distinctive Karan Johar touch and yet maintains the rural feel of Sairat. While the Marathi film was deliberately raw and rustic, set in rural Maharashtra and also Karnataka, Dhadak being a Bollywood mainstream film merges the rustic with a colourful and vibrant aesthetic of Udaipur in Rajasthan.
Story: Dhadak shows the love story of Parthavi (Janhvi Kapoor) and Madhukar (Ishaan Khatter). The two belong to different strata of society, but are instantly drawn to each other in college. It is first love and they feel all things beautiful that come with first love. But their love story takes a tragic turn, as their families don't approve of their romance.
After their first kiss itself, things take a dramatic turn and Parthavi and Madhukar's life turns upside down. They are on the run, first in Nagpur and then Kolkata where they manage to build a life even as they struggle with their reality. Will Parthavi and Madhukar be able to overcome the difficulties or will their saga end in tragedy?
Music: The music of Dhadak, although composed by Ajay-Atul who gave melodious music for Sairat, is not a patch on the original. The chartbusters Zingaat and Yad Lagla (as Pehli Baar) don't quite make you hum it in the Hindi version. But those who haven't heard the songs of Sairat will like Dhadak's musical feel, especially the title song. Vaara Re is also good. Overall, the music goes with the feel of the film and that's the best part.
Cinematography and Editing: Vishnu Rao's cinematography in Dhadak has some beautiful shots of Udaipur. The close-ups of Ishaan Khatter and Janhvi Kapoor add to the emotional quotient of the film. Dhadak's editing by Monisha R Baldawa keeps viewers on the edge.
Performances: In Sairat, as also in its inspiration Qayamat Se Qayamat Tak aka QSQT (1988), it is the girl who is bold and makes the first move. She approaches the hero and takes the lead in the relationship. Both Rinku Rajguru in Sairat and Juhi Chawla in QSQT were a mix of innocent and bold. Janhvi Kapoor's Parthavi has been shown in a similar fashion.
What adds to Janhvi Kapoor's charm is that she is raw as an actor, too, Dhadak being her debut film. She is innocent, beautiful and has good confidence on screen for a newcomer.
It will be unfair to compare Janhvi to her late mother Sridevi, an iconic Indian actress who had done 300 films. Also, Sridevi passed away in a tragic manner while Janhvi was still shooting for Dhadak. The young star showed utmost professionalism and set aside her grief to finish the remaining schedule of the film, with the support of Karan Johar and Ishaan Khatter.
Janhvi is also likely to be compared to the outstanding performance of Rinku Rajguru in Sairat, which I think would be unfair. To Rinku's credit, she came from a middle-class family in a small town and was selected for her dance, delivering well on her raw acting. But Janhvi being an urban kid, to be able to act out a college-going girl from Rajasthan must not have been easy either.
Ishaan Khatter impressed critics with his debut in Beyond the Clouds, a film by Iranian filmmaker Majid Majidi and based in Mumbai's underbelly. So, people expect a good performance from him in Dhadak. It is his first Bollywood film and he charms his way to audiences' hearts!
But he will also be compared to Sairat hero Akash Thosar, again a small-town wrestler chosen specifically for the film. But he shouldn't be, as Ishaan is spot on and gets into character so well, you forget he is Ishaan Khatter, the brother of actor Shahid Kapoor!
Ishaan Khatter and Janhvi Kapoor deliver an earnest performance. Especially towards he interval and in the second half.
Treatment: Dhadak is a lot like Sairat the original film and yet manages to hold on its own, keeping you engrossed. There are some changes according to the new setting and Shashank Khaitan has also given a new twist. Madhukar's two friends and also his landlord and his wife in Kolkata bring some comic relief to the tragic story.
Verdict: Dhadak is wonderful as a standalone film. Do not compare it with Sairat, as some of the story and a few scenes are obviously similar but the feel of this remake for the Hindi audiences is very different. Some things may be missing there, but it's a different director and set-up, and a fresh pair of Ishaan Khatter and Janhvi Kapoor. Give it a chance.