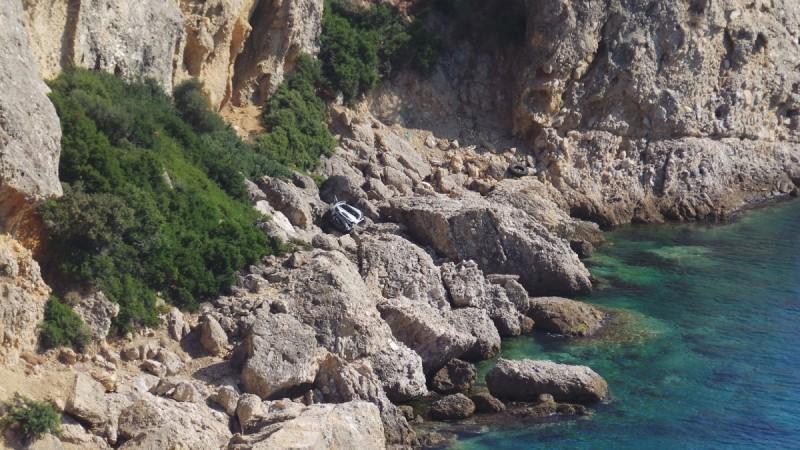 Remember the emotional photo from the Ferguson, Missouri police shooting protest that went extremely viral? In an unfortunate turn of events, the boy from the photo has died after his family's SUV went off a cliff, while driving along the Pacific Coast Highway, Northern California.
Devonte Hart – whose photo went extremely viral on the internet as it showed him hugging a police officer during a 2014 protest against the shooting of Michael Brown – was still missing Wednesday after his family's SUV was found with his adoptive parents and three other siblings dead.
His parents Jennifer and Sarah Hart, both 39, were reported to have died Monday when their GMC Yukon drove off the cliff and plunged about 100 feet below. Both of them were found inside the vehicle, while the bodies of their other children, Markis, 19, Jeremiah, 14, and Abigail, 14, were found lying outside.
But the police believe the family's other three children, including the 15-year-old Devonte, were also inside the vehicle at the time of the accident.
"We have every indication to believe that all six children were in there," Mendocino County Sheriff Tom Allman said, requesting for tips to retrace what could have triggered the devastating mishap. "We know that an entire family vanished and perished during this tragedy."
While the California Highway Patrol is still trying to determine how the car went off the cliff, Allman shared that investigators haven't had any reason to believe that the crash was intentional.
"There were no skid marks, there were no brake marks" at the turnout on the Pacific Coast Highway where the vehicle went over, he said.
The family, from a small city outside Portland, Oregon, was reported to have recently had domestic issues at home. Child Protective Services had been called Friday after one of the children showed up at a neighbor's house requesting for food, ABC30.com reported.
There were no visible signs of concern and the family appeared to have left for a short vacation, Clark County sheriff Sgt Brent Waddell told the Associated Press.
Devonte's family had acquired widespread attention due to his photo from the protest after the grand jury decided to not to indict a police officer in the shooting of Michael Brown.
At the protest, Devonte was reported to have been holding a "Free Hugs" sign and crying, which had caught a white police officer's attention and he asked the child if he could have a hug. The viral photograph captured the moment a very emotional Devonte hugged the Portland police officer.
At the time, Devonte's mother Jennifer had written on social media: "My son has a heart of gold, compassion beyond anything I've ever experienced, yet struggles with living fearlessly when it comes to the police. ... He wonders if someday when he no longer wears a 'Free Hugs' sign around his neck, when he's a full-grown black male, if his life will be in danger for simply being."
Amid the rampant attention they received, there were a lot of negative remarks about the multiracial family with lesbian parents, revealed Zippy Lomax, a Portland photographer who knew the Harts, to the Oregonian/Oregonlive.com.
"They kind of closed off for a while, honestly," Lomax told the newspaper. But she added that "Jen and Sarah were the kind of parents this world desperately needs."
As per latest updates of the accident, Devonte and his two other siblings, Hannah, 16, and Sierra, 12, are still missing. But authorities are almost certain neither of them could have made it alive.