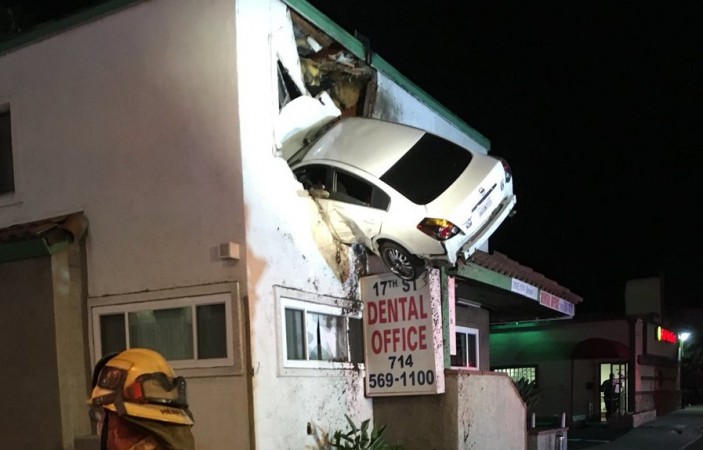 In a bizarre accident, a car flew through the air and crashed into the second floor of a building in Southern California on Sunday morning.
According to the Orange County Fire Authority (OCFA), two people survived the car crash while one of them was trapped inside until the 6.45 am PT as the incident happened around 5.30 am PT.
Also read: Who is Saksham Yadav? World champion powerlifter dead after Delhi car crash
The other person had self-extricated. And, the trapped person has been rescued by Los Angeles County Urban Search and Rescue (USAR). Both of them were taken to a local hospital to treat some minor injuries.
According to OCFA, the car was travelling at high speed just before it hit a concrete divider. after that, it went airborne and got stuck on the second floor of a small office building.
The car was coming from a side street and collided with the divider which led to a much like a T-bone crash, The Washington Post reported. The car crash caused a small fire at the place.
"The fire was quickly extinguished by the first arriving units," Captain Stephen Horner of the Orange County Fire Authority told the Daily Mail.
OCFA in Santa Ana of a vehicle that crashed into the building. The fire was quickly extinguished, both victims are out of the vehicle safely with minor injuries. Members from OCFA & LA COUNTY Urban Search & Rescue teams are removing the vehicle from the building. pic.twitter.com/x29WvTkNGk

— OCFA PIO (@OCFA_PIO) January 14, 2018
To rescue the trapped person, "USAR was able to access the passenger door."
Horner further added, "They used a front loader from the city of Santa Ana to stabilize the vehicle and the members of USAR were able to gain access and pull the victim out from the passenger side of the vehicle safety."
Santa Ana police also said that the driver has admitted to having used narcotics.