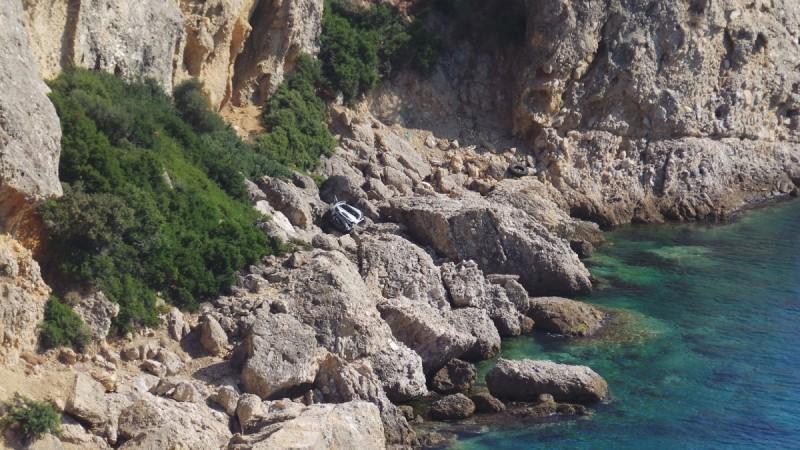 A family of five died in a car accident after the vehicle plunged about 100 feet off a cliff along the Pacific Coast Highway near Mendocino, California. The victims were identified by the California Highway Patrol (CHP) Tuesday as two women from West Linn, Oregon, and three children.
The highway patrol stated that "a 2003 GMC Sierra truck was driving south along the Highway 1 on Monday when it pulled into a dirt turnout along the road and, for unknown reasons, continued directly off the cliff."
A photo of the crash released by the CHP shows the truck positioned on its roof upon the rocks just south of Juan Creek.
A CHP trooper also added that it is unclear if any of the victims were wearing seatbelts at the time of the crash because when they were found, the three children were outside the car, while both the adults were inside.
The bodies were discovered at around 3.40 pm Monday by a passerby. The bodies were retrieved once firefighters managed to rappel down the cliff. A helicopter was also called to lift them up, KOIN reported.
Reports also mentioned that the weather was clear and drugs and alcohol weren't considered factors causing the accident. Investigators revealed that they are still not sure what could have caused the accident, but the investigation is still going on and autopsies will be performed soon.
A CHP spokesperson confirmed the ongoing investigation to DailyMail.com. They also said that the names and age of the victims will be revealed once the family of the victims is notified.
KGW reported that the CHP revealed that the children were from Oregon and Washington. But it is still unclear what the relationship between the five victims was.