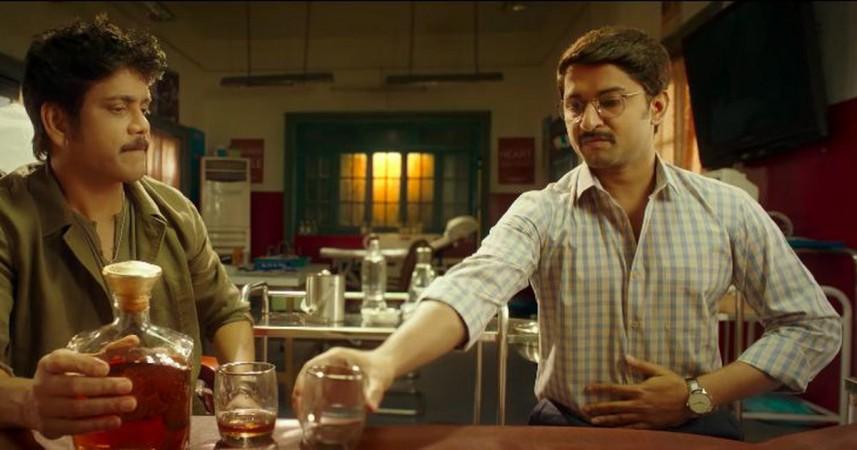 Devadas (Devdas) remained strong and made a good collection at the worldwide box office on Monday. The Akkineni Nagarjuna and Nani starrer has surpassed Rs 30 crore gross mark in the global market in five days.
Amidst huge hype and expectations, Devadas was released in over 1,000 screens across the world on September 27 and received superb response everywhere. The movie collected over Rs 12 crore gross at the global box office on the first and became the biggest opener for Nagarjuna and Nani.
The Sriram Adittya-directed action comedy film struck a chord with audience and garnered positive talk from them. The word of mouth helped it remain strong at the ticket counters on the following days. Devadas collected Rs 28.70 crore gross at the worldwide box office in four day-extended first weekend.
As usual, Devadas witnessed over 50 per cent drop on Monday and is estimated to have collected Rs 3.50 crore gross at the worldwide box office. Its five-day total has Rs 32.20 crore gross in the global market. The movie is estimated to have earned Rs 18.50 crore for its distributors, who have shelled out Rs 38 crore on its theatrical rights.
Devadas was expected to recover more than 60 per cent of its distributors' investments in its opening weekend, but the movie has returned them 48.68 per cent of their money. In its second week, the film will clash with Vijay Devarakonda's Nota, which is set to slow down its collection. Considering its current pace, the flick is likely to incur losses to its distributors.
Here are the area-wise earnings and theatrical rights' prices of Devadas in the four-day-extended first weekend. These numbers are based on various sources and they may not match with the real ones. All the figures are in Rs and crore.
| | | |
| --- | --- | --- |
| Area | Rights | Earnings |
| Nizam | 11.10 | 4.50 |
| Ceded | 5.05 | 1.95 |
| Vizag | 3.35 | 1.57 |
| G East | 2.40 | 0.85 |
| G West | 1.95 | 0.64 |
| Krishna | 2.25 | 0.92 |
| Guntur | 2.80 | 1.14 |
| Nellore | 1.25 | 0.43 |
| AP/T | 30.15 | 12.00 |
| Karnataka | 2.05 | 1.75 |
| Rest of India | 0.75 | 0.40 |
| Overseas | 5.05 | 2.35 |
| Global Total | 38.00 | 16.50 |