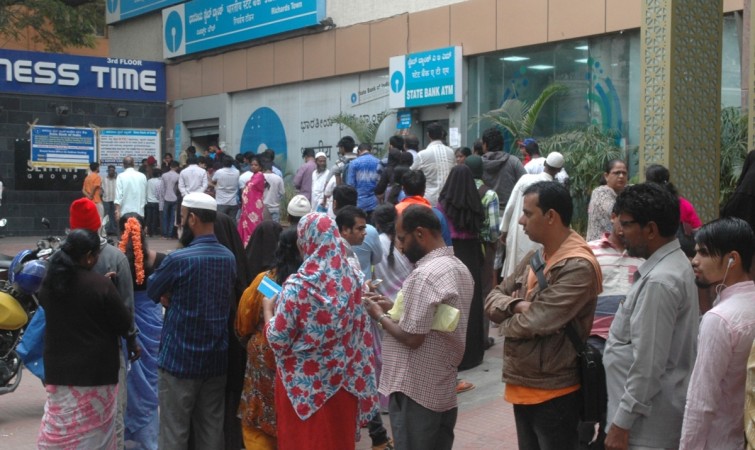 Stock markets closed in the red on Monday as investors continued to remain concerned about the impact of the Central government's demonetisation decision on the economy, while a strengthening US dollar and FII selling-spree worsened matters. Realty, state-run bank and auto stocks were the worst hit; State Bank of India (SBI) was the biggest Sensex loser, closing at Rs 257.75, down 6.51 percent.
The BSE Sensex closed 385 points, or 1.47 percent, lower at 25,765 while the NSE Nifty ended 145 points lower at 7,929. Top index losers other than SBI were Power Grid, Tata Steel, Maruti Suzuki and Mahindra and Mahindra (M&M).
Wipro, ONGC and TCS bucked the trend to end with gains.
From a sectoral point of view, BSE Realty was the biggest loser, at 4.71 percent, while the Nifty PSU Bank plunged 6.89 percent. Other top sectors that bore investors' brunt on Monday were BSE Auto (3.25 percent), BSE Industrials (2.84 percent), BSE Finance (2.83 percent) and BSE Metal (3.34 percent).
"The pressure of the cash crunch situation continued to spook the market sentiment, and the outflow of foreign funds has intensified the blow. Banks stocks which were outperforming till date in expectation of benefiting from demonetization due to sharp increase in deposit rates have started to lose its trend due to increased concern over liquidity issue and effective leveraging of funds," Vinod Nair, Head of Research, Geojit BNP Paribas Financial Services, said in a note.
The BSE Sensex has lost 6.6 percent since the demonetisation announcement on November 8. The benchmark index has shed 1,826 points (November 8 closing of 27,591 minus 25,765 on November 21).
The Indian rupee depreciated further to end at 68.16 to the US dollar, weakened by global headwinds and domestic worries.
"Even as stock prices adjust to a new normal post the demonetisation drive, dollar's continued surge has ensured that FIIs persist with the exit theme, putting unrelenting stress on Indian stocks," Anand James, Chief Market Strategist, Geojit BNP Paribas Financial Services, said.
Foreign institutional investors (FIIs/FPIs) were net sellers of Indian equities worth Rs 1,310 crore on Monday, according to provisional data published by the National Stock Exchange (NSE).