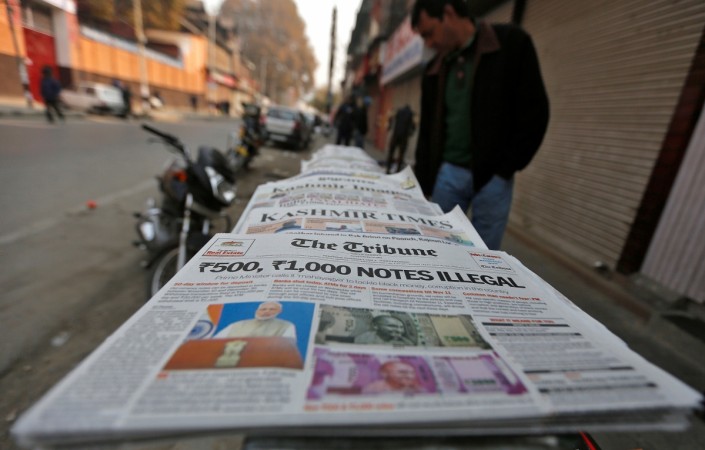 The almost-certain economic slowdown induced by demonetisation of high-value currencies is set to affect the media and entertainment sectors, according to an update by IDBI Capital Markets & Securities.
For the media, the hit will be in the form of lesser advertisements next month and in the last quarter of the current fiscal. "No significant impact on advertisement revenue has been visible as the inventory was already sold. The actual impact to be visible over the next month and Q4FY17," the brokerage said in a note on Thursday.
A similar fate awaits Hindi films, impacting producers as well as cinema halls where two latest releases, Rock On 2 and Force 2 are being shown.
"Multiplexes have seen impact of decline in footfalls for movies like Rock On 2 and Force 2. This is likely to have impacted both the box-office collection and F&B sales. We expect 15-20 percent impact on footfalls due to decline in cash transactions. We believe that this should ease in December with the improvement of content. Impact on smaller film producers to be felt over the next three-six months," IDBI Capital Markets & Securities said.
It reiterated what many other analysts have said on the negative impact of demonetisation on the real estate sector.
"Secondary market is frozen since the date of event. Unsold inventory could lead into price correction. However, they are very property specific. The impact on private real estate players is very negative," it added.
Share prices of listed multiplexes have dropped ever since the November 8 "surgical strike." PVR slipped from Rs 1,284 (as on November 8) to close 10.90 percent lower at Rs 1,144 on Thursday, while Inox shares have lost 8.57 percent from Rs 245 apiece to Rs 224 on Thursday during the comparable period.
Eros International Media closed at Rs 155, a loss of 15.3 percent from its November 8 closing of Rs 183. The company is into film production and distribution in India and abroad.