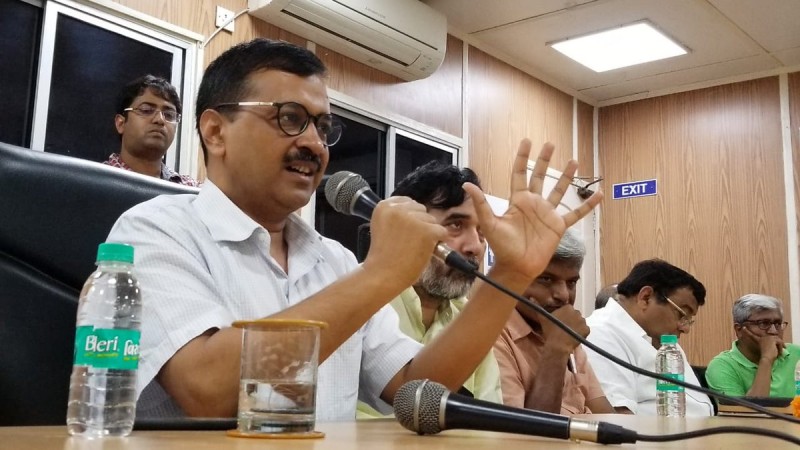 Delhi chief minister Arvind Kejriwal chaired a meeting with concerned officials in the national capital as the rising water level of the Yamuna poses a grave threat to the city. The river crossed the danger mark on Saturday, July 28.
Reports indicate that 1,500 people in low-lying areas have already been evacuated. The Delhi government is also said to have deployed ambulances to offer assistance in the affected areas.
The meeting chaired by the chief minister was to review the preparedness of the concerned departments. It was attended by officials of the city police, Urban Development, Irrigation and Flood Control, Delhi Jal Board, Public Works Department as well as MLAs of the areas that face an imminent threat, among others.
Kejriwal told officials:
The supply of power, good food and drinking water to the people must be ensured and no stone left unturned to take care of them. Emergency medical teams will also be put on duty for evacuated people and to deal with any medical emergencies.
The Delhi government has requested the Army to be on standby as flooding seems imminent. Quick response teams have been activated to be deployed in case of emergencies. Boats too have been kept on standby to tackle any unwanted situations that may arise.
Heavy rains in Uttarakhand and Himachal Pradesh have led to an increase in water levels at the Hathnikund barrage at the Haryana-Uttarakhand border. Even as water was released from the reservoir on Saturday morning, the danger mark of the Yamuna in Delhi had already been breached.
Floods are expected later today as the water released from Hathnikund is expected to reach Delhi in the evening. A Flood and Control Department official told IANS:
More water is being released from the barrage every hour, which will have an impact on the water level of the river here. We are keeping a close watch on the situation.
Nodal officer of Preet Vihar in East Delhi, Arun Gupta told IANS:
We have established over 750 tents for about 1,000 families in East zone alone. The arrangements for their food is also done. We are shifting the people living in the river bed to the nearest high area.
The Delhi Urban Shelter Improvement Board (DUSIB) has been ordered to install mobile lavatories around the tents being put up. Schools and night shelters have been prepared to accommodate more evacuated citizens if required.