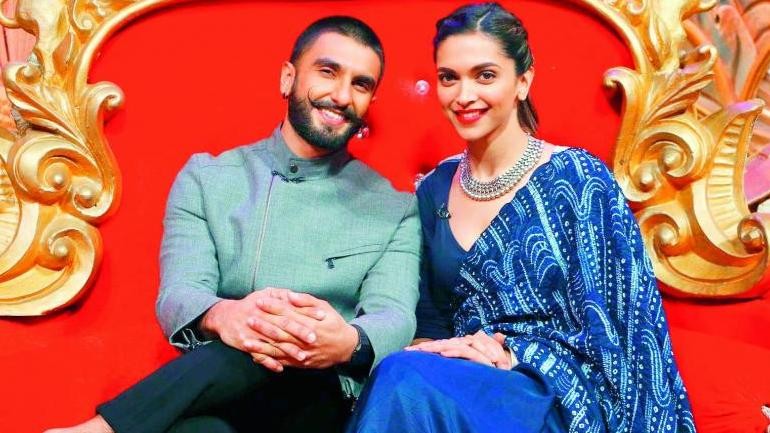 In probably the biggest wedding of the year, Deepika Padukone and Ranveer Singh would begin their wedding festivities on November 14 and 15, this year. While this is the happiest news for all their fans round the globe, industry peeps too seem quite excited to attend this gala affair.
And when the King of Bollywood would marry the Queen of Hearts, there's no denying the fact that things would be bigger, better, grander and spectacular. It is said that both Deepika and Ranveer want everything on their wedding day and venue to be perfect and are looking into even the minutest of details. What's more interesting to know is the fact that the couple were to announce their wedding on Ganeshotsava but due to the intricate planning there had been a delay in the final announcement.
As per reports, Ranveer and Deepika are doing many things which we haven't seen in other celebrity weddings before. Let's take look.
Colour-co-ordinated outfits: There's no doubt that Deepika would be nothing less than a divine vision in her bridal avatar. However, what's interesting to note is that even Ranveer has decided to give Deepika a tough competition. While renowned designer, Sabyasachi has hinted on Instagram that he would be the one designing Deepika's bridal outfit, it appears Ranveer too would get his wedding attire designed by him. And not just this, the duo would also be seen in complementing colour co-ordinated outfits.
Sabyasachi outfits for all the members of the family: It's not the time for just the bride and groom to shine. All the immediate and close members of both sides of the family would also make heads turn as all of them would be donning Sabyasachi creations for this special occasion.
Theme and décor of the wedding: It has been reported that both Deepika and Ranveer have taken utmost interest in the theme and décor of the wedding. Not only would the theme complement their wedding attires but the décor too would also be in sync with the surroundings and the theme.
Colour co-ordinated waiters and waitresses: And not just the theme of the wedding, even the attendants would be in sync with the theme, décor and colour of the outfits worn by Deepika and Ranveer. The colour palette of the uniform of attendants would keep changing as per the ceremonies. From what it looks like, it is definitely going to be the best colour co-ordinated event you'd ever get to see.
Colour theme for guests: Though not confirmed, it has been reported that the duowould asks the guests to attend the wedding function dressed in a particular colour palette chosen by them The duo want the guests to be in co-ordination with the theme and the décor the lavish affair.