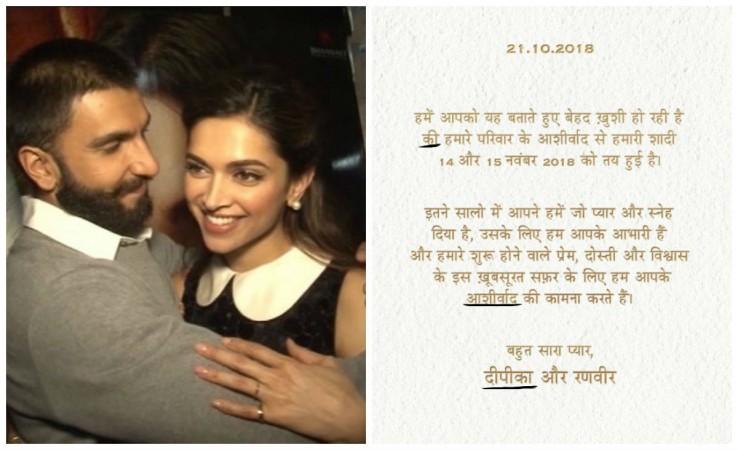 Ranveer Singh and Deepika Padukone shared their big news of upcoming wedding on social media with a traditional card that was printed in both English and Hindi. But according to some netizens, the Hindi wedding card has a number of spelling mistakes in it.
The star couple announced their marriage date and sought everyone's blessing through the wedding card. Although the card appeared to be a conventional one, it did not mention the venue of the wedding.
Nonetheless, social media got extremely excited with the news, and soon #Deepveer started trending on every platform. But there are some who pointed out some apparent spelling mistakes in the Hindi version of the card.
According to them, the spelling of words like "Deepika" and "aashirwad" are spelt wrong in the wedding card. Fans were fast to point the apparent mistake. Well, social media spares no one and not even the smallest of goof-ups.
Meanwhile, fans are curious to know all the details about the big marriage of the year. Although some reports claimed that Ranveer and Deepika will tie the knot in Italy, no official confirmation has yet come.
The couple dated each other for almost five years, and now they are ready to take their relationship to the next level. The big event will take place on November 15 and 15.
Check some of the reactions on apparent spelling mistakes on the wedding card:
according to my best of knowledge spelling of Deepika is wrong . It should be दीपिका , not दीपीका my humble suggestion ! good wishes to both of you

— Babulal Yadav (@yadavbls74) October 22, 2018
Spelling of deepika in hindi seems incorrect

— Rohit Dhir⏺️ (@rohit_dhir1) October 22, 2018
deepika ki spelling bhi galat hai..

— Abhishek Jain (@abhishekjain118) October 22, 2018
Shadi ke card pe naam kaun galat likhta hai yaar?

— . (@neednahiarahi) October 21, 2018