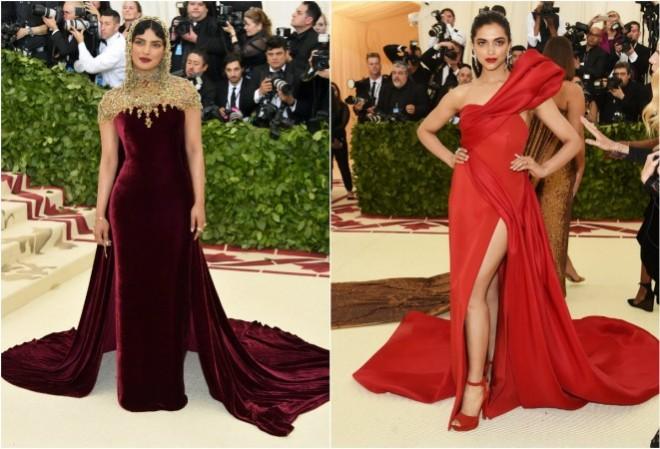 Deepika Padukone and Priyanka Chopra are considered to be arch-rivals by their fans even though they clarified multiple times that they are BFFs in reality. But the Padmaavat actress has angered fans when she failed to mention Priyanka Chopra's name when asked how it working with the latter on the sidelines of the Cannes Film Festival 2018.
Earlier, it was reported that Deepika and Priyanka's friendship had gone kaput during the shoot of Sanjay Leela Bhansali's Bajirao Mastani. It is also said Deepika had been trying too hard to compete with Priyanka Chopra after the latter bagged a lead role in Quantico series.
Deepika, later, made her debut in Hollywood with xXx: Return of Xander Cage opposite Vin Diesel while Priyanka got her big break in Baywatch alongside Dwayne 'The Rock' Johnson. Both actresses have now become the most talked about celebrities in the west and had been making stunning appearances wearing designer outfits at various prestigious events and TV shows.
Both Priyanka Chopra and Deepika Padukone made a statement in their very own ensembles at the recently held Met Gala 2018 red carpet. While Deepika sported a red draped gown with a thigh-high slit designed by Prabal Gurung, Priyanka opted for a wine red strapless Ralph Lauren gown with a billowing train paired with an embellished gold chain headdress reminiscent of a medieval knight.
Deepika and Priyanka have always been pitted against each other because of their achievements in both Bollywood and Hollywood but the two have always maintained that there was no cold war between them and are good friends.
But fans were left disappointed to see Deepika referring Priyanka as 'people' in her answer when she sat for a chat as an L'Oreal Paris ambassador with ACV's special presenter Attika Choudhary at Cannes 2018.
Deepika said, "It's fun working with people. It's always fun collaborating with people, who have the same vision for whatever that it is you are trying to create" when she was asked about her experience working with her contemporary Priyanka Chopra.
Disappointed fans soon started trolling Deepika asking her why was it hard to compliment her fellow co-star instead of talking in parables.
"What an evasive answer when asked about how it was working with Priyanka Chopra. The interviewer asked about Priyanka so why is she talking about 'people'. It's not bad to prop up others and compliment them Deepika!" a user said in the YouTube comment section.
"Why is it hard to compliment your fellow co-star, in this case Priyanka Chopra and say it was a great working together etc etc .. instead of talking in parables .. this is why the media put women against each other," another user said while expressing disappointment.
Another user opined, "Boring, does not know how to speak at the interviews, and refuses to compliment other co workers. I used to be a big fan but now I just think you are a horrible person. Priyanka has been always supporting you, congratulating you. I wish you would read this comment Deepika, get it in your head, Priyanka is far more advanced than you in many ways, she is extremely clever, she speaks so eloquently, she is far bigger superstar than you. Please don't think you are in the same level as her because you will never get as much success as Priyanka has. She will always be many step ahead of you. Accept it!!!"
While the other said, "If another actress evaded taking deepika's name in this interview, like she did to priyanka, there'd be several articles in the Indian media showing the footage saying that actress is envious of deepika, now everyone will turn a blind eye and still find ways to make her the victim."
Watch the video here:
Is there a cold war between Deepika Padukone and Priyanka Chopra? Do let us know in the comment section.