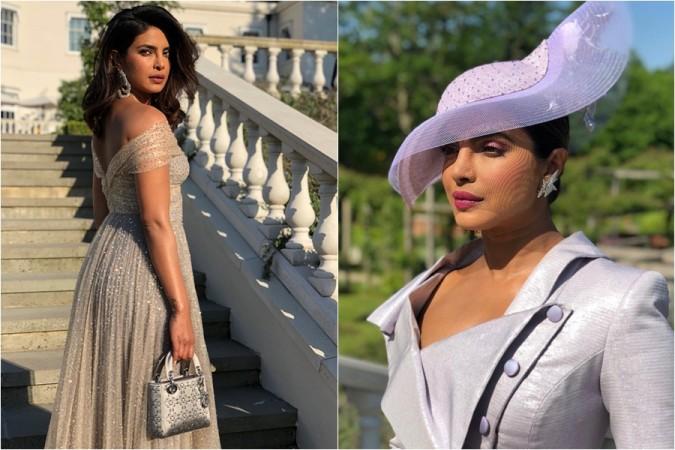 Priyanka Chopra made heads turn when she opted for a Vivienne Westwood suit and a fascinator for the royal wedding of Prince Harry and Meghan Markle on May 19. She dazzled at the reception in a champagne coloured glittery gown by Dior with basic make-up. While fans were all gaga over her looks, former Samata Party president and textile revivalist Jaya Jaitly was disappointed to see her dress up like a "British aristocrat" at the wedding. She said that the Quantico star could have opted for a "beautiful" sari as independent India has so much to show to the world.
How sad an Indian actor attending the royal wedding in UK should dress like a British aristocrat at Ascot rather than represent a free and independent India in a beautiful Sari," she tweeted.
But Jaitly's rant against Priyanka backfired as fans started trolling her and asked her to stop dictating to people what they should wear.
Completely unfair criticism of a woman who has done enough and more to put India on the World Map. If she is creating an international image for herself, how is that sad? She isn't doing anything dishonourable. Would you ask why Modi doesn't go touring in Kurta pyjama?" a Twitter user slammed Jaitly.
Stop dictating to people what they should bear. Why are the Chinese bearing suit and tie, don't they have a five thousand year old culture?" another user commented.
There is nothing wrong with her wearing that dress. It is her choice. Where do get this idea that Saree represents free and independent India?" a user trolled Jaitly.
Unfazed by trolls, Jaitly said people may not agree with her, but in her words, "Just like Priyanka has the right to wear whatever she wants, I have the right to express my opinion."
However, her complaint goes beyond Priyanka's dress.
Jaitly told IANS: "All these actors, they dress up in all these fancy gowns by fancy designers who pay them for wearing their outfits and so they get fat money. Now, I keep feeling as I am loyal to our weavers and our textiles in India and we are working all our lives to revive it... We never attach a human being (the weaver's name) with the brand name unless it has a designer's name.
"We will say Kanjeevaram or Sambalpuri or something else and that's the unfair practice all over the world and particularly in India."
As the founder and president of Dastkari Haat Samiti, an art and craft market to empower rural artisans of traditional Indian crafts through innovative strategies, Jaitly has been at the forefront of promoting Indian handicrafts and textiles.
She questions why Indian actresses wear western gowns to red carpet events abroad.
"Even in Hollywood (red carpets), where if I see Deepika Padukone wearing long gowns... they never really can compete. It's like Indian fashion designers trying to do western dresses... Why don't they wear most beautiful gorgeous sari, and everyone will go 'wow'."
An Indian activist, Suhani Jalota, who runs Myna Mahila Foundation, attended the royal wedding in an elegant sari designed by Indian brand Raw Mango run by designer Sanjay Garg.
Counter-questioned about the existence of a dress code to attend the royal wedding, Jaitly said: "In the royal wedding, it was all about inclusiveness and welcoming others' society, people, race and colour. The royal family and all these people went all out to emphasise the American-African identity of the bride and everyone was raving about the bride's mother too because they were different.
"I felt sad when I think that why do we copy them and never quite get it right. We have so much to show and show off."
On the dichotomy of a dress code, Jaitly pointed out: "When somebody in a village in India says 'Sar dhako (cover your head)', we don't want that... When somebody says, 'Don't wear jeans in college', we say 'Who are you to tell us a dress code?'. But if Queen in England descends an invitation and say you got to wear a hat, which is not part of your culture, you will start saying there was a dress code.
"I don't understand these various double standards."
On Saturday, Prince Harry and Markle became man and wife at St George's Chapel in Windsor, the British royals' long-time home. The two have been conferred with the titles of His Royal Highness The Duke of Sussex and Her Royal Highness The Duchess of Sussex, respectively.
(With IANS Inputs)