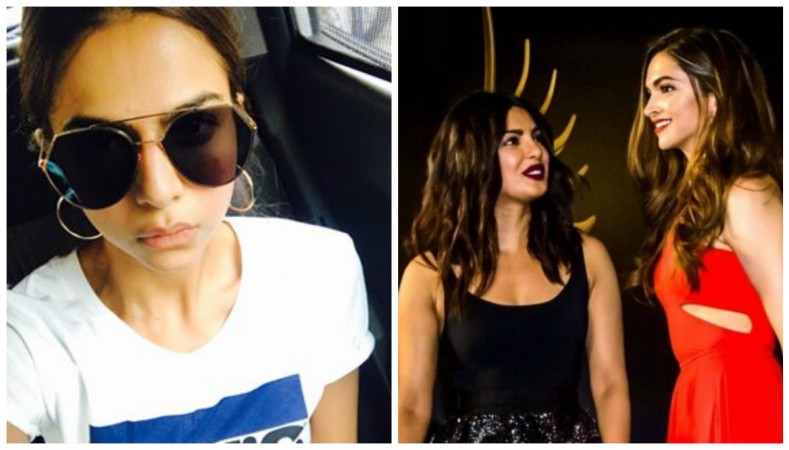 While Deepika Padukone is currently in news for her wedding with Ranveer Singh, Priyanka Chopra is also making headlines for her PDA with fiancé Nick Jonas. The two divas are having their best time, and there is no enmity between the two as it was believed to be earlier. However, Deepika's stylist has now done something that left PeeCee fans not just shocked but also extremely miffed.
Priyanka posted a picture on social media that shows her spending a romantic moment with Nick as the latter visited India. While most of the people appreciated the picture, some of the trolls made a few unpleasant comments on the photo.
What irked Priyanka's fans is the fact that Deepika's stylist, Shaleena Nathani liked one of the negative comments on her picture. Someone commented, "Trying very hard", suggesting that PC is trying hard to steal the limelight from Deepika.
"Hey @shaleenanathani, you are one insecure person. Liking Priyanka hate tweets on Instagram will not make you a good stylist! Why not focus more on Deepika and her styling?" one fan tweeted.
"Deepika is surrounded by toxic people all around. From an insecure stylist, to salty fanpages and trash fans," said another one.
Good to know that she's good at liking hate comments when a girl celebrating her love other than wrapping Deepika Padukone in her wrapping papers all the time. Girl clearly you can't even do your JOB as "a stylist" bcz you must be busy liking this s?it 24×7 @shaleenanathani? Lol https://t.co/RI869HbxL9

— vish ♡ nickyanka (@yasiru_vismini) November 22, 2018
As soon as Shaleena liked the comment, Priyanka's fans started slamming the stylist as well as Deepika. Series of angry reactions started pouring in, claiming that this particular act by the stylist suggests that the Padmaavat actress and Shaleena are insecure of Priyanka.
Having noticed the backlash on social media, Shaleena later unliked the comment, but the damage was already done.
Meanwhile, Deepika and Ranveer recently hosted their first reception party in Bengaluru. The power couple is now preparing for the big fat party in Mumbai that will be attended by who's who of Bollywood.