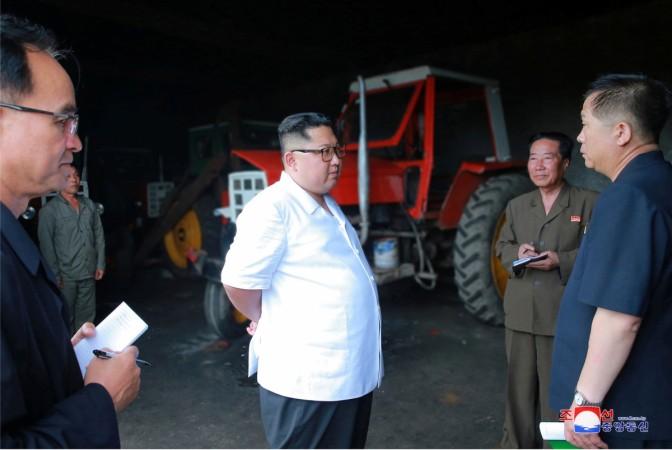 When United States President Donald Trump and North Korean leader Kim Jong Un met in Singapore on June 12, Pyongyang seemed committed to the denuclearisation of the Korean peninsula. However, satellite images have now hinted that the country could once again be building new nuclear missiles.
The Washington Post, citing officials familiar with the matter, reported that Pyongyang could be carrying out work on building one or two liquid-fueled intercontinental ballistic missiles in Sanumdong, a Pyongyang suburb.
The experts also told the Post that liquid-fuelled weapons are much tougher to move and store as the volatility of the liquid could lead to failures in missile launches. However, this works in favour of the US spy satellites to keep an eye on the process as liquid fuelling takes a longer time to complete, as compared to solid fuelling.
In case of solid fuelling, the process could be completed quickly leaving the US with very little time to know about the process and could even be launched without a warning.
The satellite images come days after North Korea was said to have started dismantling a key missile engine testing site in tune with its promise made during the meet with Trump.
A few images were taken between July 20 and 22 and published by the North Korea-focused website, which showed facilities at the the Sohae Satellite Launching Station being pulled down. The station is located in the North Pyongan Province, near North Korea's northwestern border with China.
Until now, Sohae was used as a pad for three important missile launches.
If North Korea is indeed building new missiles, the move will also come as a setback in the nation's ties with the US. After trading jibes since last September, relations between the US and North Korean leaders have finally thawed. Trump and Jong Un also appeared pleased meeting in Singapore.

After Jong Un vowed to denuclearise the Korean peninsula, Trump had said that the US would no longer carry military exercises with South Korea. The US president had also praised Jong Un saying: "He is very talented" and has the ability to "take over a situation like he did at 26 years of age and run it, and run it tough."
Trump had even invited Jong Un to the White House, which the North Korea leader had accepted. Trump also said that the sanctions on Pyongyang would remain for now, but added that the US looks forward to removing them."I actually look forward to taking them off," he said, adding that would happen "down the road when nothing's going to happen."