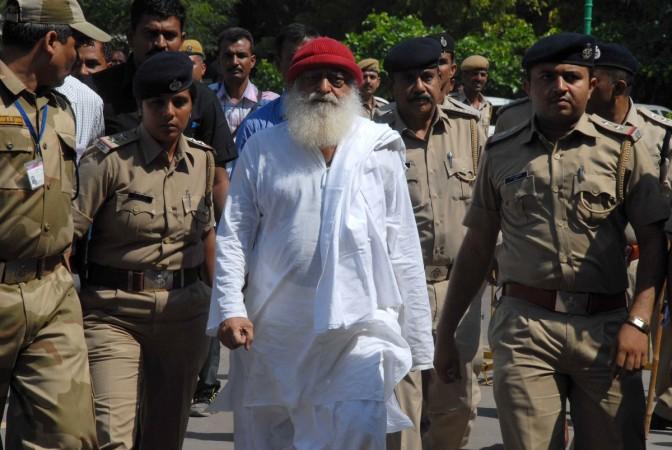 Just a few days ago, it was reported that rape-convict Asaram's daughter Bhartishree would take over his Rs 10,000 crore empire, considering her father is set to spend the rest of his life in jail for raping a 16-year-old girl in 2013. However, Bhartishree has now rubbished these reports and said she had snapped ties with the ashram about "16-17 years ago."
While it was said that Bhartishree had been running Asaram's empire, which comprises of about 400 ashrams, 40 schools, a printing press and an Ayurveda unit, since his arrest in 2013, she clarified that none of these reports were true.
"Trust management feels that I am not with them. The outside world feels that I am with the trust," Hindustan Times quoted the 43-year-old as saying.
"But I have disassociated myself from the trust 16-17 years ago. My organisation is separate from the trust and our activities are different as well."
Bhartishree made the statement when she was attending another rape case filed against her father Asaram and her brother Narayan Sai. She is also a co-accused in the case, filed by two sisters in Surat, Gujarat.
When asked about Asaram's conviction, she said: "Time and again saints in India have faced such (rape) allegations. But we have to respect the court's judgment."
Bhartishree is known to have held many religious meetings and even took deeksha (a religious vow) at the age of 14.
While Asaram's daughter says that she broke ties with the trust over a decade ago, the employees have a different story to tell. They earlier had revealed that she traveled extensively and oversaw the day-to-day activities of the ashram.
Asaram was convicted of raping a 16-year-old girl in 2013 by the SC/ST Court and was sentenced to life in prison. However, the Gujarat police are likely to seek the 77-year-old rapist's custody so that he can be produced in the Surat court in another rape case.
How the Asaram case unfolded
Asaram is accused of raping a 16-year-old girl in Manai village in Jodhpur August 2013. A case is registered against the "godman" in Delhi's Kamla Nagar police station August 20, 2013. He is charged with the crime and the victim undergoes medical tests.
Asaram is also accused of trafficking and booked under the POCSO Act.
He is arrested September 1, 2013 and booked under various sections of POCSO, as well as, the Juvenile Justice Act.
The chargesheet states that the girl studied at the ashram in Chhindwara. The cook and warden of the ashram complain that the girl is possessed by evil spirits. Her parents, followers of Asaram, take her to the Jodhpur ashram where she is sexually assaulted.
Witnesses speak up on the matter and give their statements between March 2014 and August 2016.
The victim's statement is also recorded April 2014. Asaram records statement in October 2016.
Asaram also has another case against him, in which two sisters from Surat, Gujarat, accuse Asaram and his son Narayan Sai of rape and illegal confinement.
Sai's statement recorded
In the years that Asaram has been in jail, nine witnesses have been attacked, out of which three witnessed also lost their lives.
The sessions court has rejected Asaram's bail plea six times. His bail plea has been rejected three times by the high court and thrice by the Supreme Court.
Several prominent lawyers, including Ram Jethmalani, Salman Khurshid, KK Menon and Subramanian Swamy, have tried to obtain bail for Asaram and failed.
Final arguments in the trial completed March 2018. The Jodhpur court decides the date of the verdict as April 25, 2018.
Asaram is convicted in the case and sentenced to life in prison April 25.