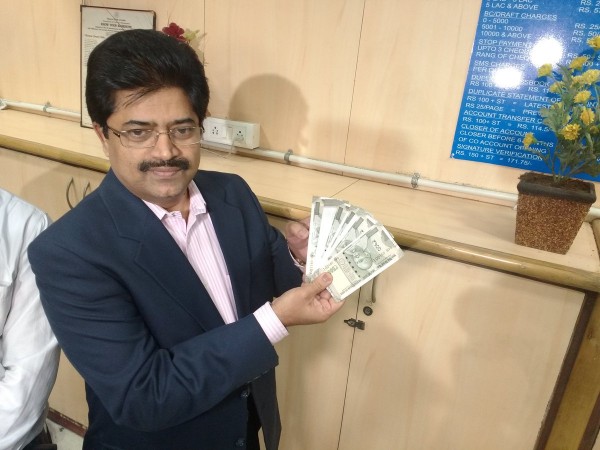 The Narendra Modi government on Sunday said that it was increasing the daily currency exchange and ATM withdrawal limits in view of heavy demand. It also helped matters that new currency notes of Rs 500 denomination began to finally reach banks.
The daily currency exchange limit of Rs 4,000 and ATM withdrawal limit of Rs 2,000 had been necessitated by PM Modi announcing on November 8 that Rs 500 and Rs 1,000 currency notes in circulation at that time would no longer be accepted as legal tender from midnight that day. He explained in a lengthy speech that the step had been taken to not only root our black money but also end corruption, terror funding, fake currencies and numerous other reasons.
Increasing the exchange and withdrawal limits
On Sunday, the Union Finance Ministry said in a statement that it had "reviewed the position regarding availability and distribution of all denomination of bank notes," and taken some important decisions.
Primary among them was: "Banks have been advised to increase the cash withdrawal limit at ATMs from the existing Rs 2,000 to Rs 2,500 per day in the recalibrated ATMs. Other ATMs will continue to dispense Rs 50 and Rs 100 notes until they are recalibrated."
The ministry also said in the statement: "Banks have been advised to increase the exchange limit over the counter from the existing Rs 4,000 to Rs 4,500." It added: "Banks have been advised to make arrangements for separate queues for senior citizens and Divyang persons. Separate queues will also be arranged for exchange of cash to cash and transactions against bank accounts."
The transactions so far:
The ministry said in the statement about the transactions since the prime minister's announcement: "In the first four days (from November 10 to 13, upto 5 pm) about Rs 3 lakh crore of old Rs 500 and Rs 1,000 bank notes have been deposited in the banking system and about Rs 50,000 crore has been dispensed to customers by either withdrawal from their accounts or withdrawal from ATMs or by exchange at the counter. Within these four days, the banking system has handled about 18 crore transactions."
The statement also quoted the ministry as saying: "It has been reported that certain business houses viz. hospitals, caterers, tent houses, etc., are not accepting cheques or demand drafts and online payment transfer from customers. It is advised that in such cases the customer make a complaint to the concerned district magistrates or the district administration for action against such establishments."