Android Go is a lightweight iteration of Android Oreo designed for smartphones with 1GB RAM or less
Samsung SM-J260G is spotted in Geekbench listing with 1GB RAM and running Android 8.1 Oreo
Samsung has always seemed to concentrate on its Galaxy S and Galaxy Note series which fall in the premium smartphone segment, but that doesn't warrant the fact that the South Korean manufacturer isn't focusing on its mid-range and entry-level smartphone. While Samsung is yet to confirm whether it will be launching a new entry-level smartphone that will be powered by Android Go, a new Samsung branded smartphone has been spotted in a benchmark listing. The new handset raises the possibility that it could be the company's first attempt at Android Go.
The yet-unannounced device bearing model number SM-J260G has been listed on the Geekbench database which is where most of the upcoming devices are spotted before getting to see the light of day.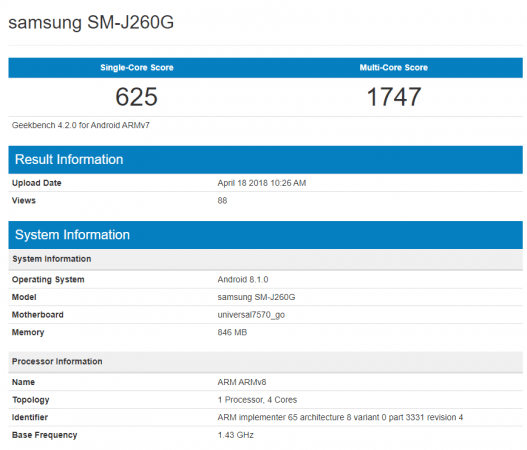 Now, it does seem a little odd that a manufacturer like Samsung would make a device that will be powered by Android Go, an iteration of Android 8.0 Oreo specifically designed for smartphones that come with less than 1GB of RAM. But with manufacturers like HMD Global-owned Nokia, with the Nokia 1, and others launching Android Go devices the possibility doesn't seem all that unlikely.
Judging by the specs, the SM-J260G in question might be the first Samsung Android Go handset that could reportedly be launched as the Galaxy J2 Core.
The Samsung SM-J260G spotted in the Geekbench database has been listed with 1GB of RAM, but it runs on Android 8.1 Oreo out-of-the-box. The OS version and the low-end RAM are a major indication that this could likely be an Android Go device.
Moreover, the processor also appears to be an optimized version of the quad-core Exynos 7570 SoC with 4 X ARM Cortex-53 cores clocked at 1.4GHz. Also, the motherboard is listed in the benchmark listing as the "Universal7570_Go," yet another point in consideration.
As mentioned before, Android Go aka Android Oreo (Go Edition) is an iteration of Android Oreo that is aimed at smartphones with low-end hardware, and Samsung hardly launches its smartphones, let alone low-end smartphones, with the latest Android version. So, the SM-J260G with the 'G' in its model number ticks all the right boxes of being an Android Go device.
There's also word that the device might be launched as part of Samsung's entry-level Galaxy J series and carry the 'Galaxy J2 Core' moniker. However, there is no official confirmation on this just yet.
However, there are chances that the Android Go smartphone from Samsung might end up being just a victim of circumstantial evidence, but it certainly makes sense for Samsung to launch its own entry-level Android Go handset especially in the emerging markets.
Android Go promises to give budget-conscious customers a better user experience by toning down the hardware requirements and optimizing the software in a way that it runs smoothly even on smartphones with modest hardware specs. Google has also developed several lightweight Go-edition versions of its popular apps like Gmail, Google Maps, and YouTube. These apps are highly optimized for Android Go. Even third-party vendors like Facebook are shipping a lighter version of their mobile apps that are optimized for Android Go.