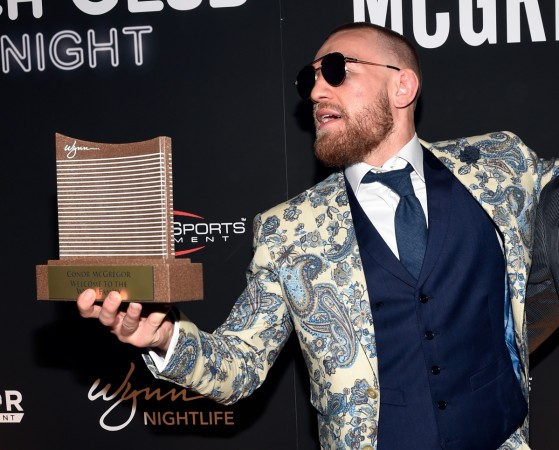 UFC star Conor McGregor, who is currently being accused of multiple notoriety -- from indulging in a pub fight in Crumlin, Ireland, to impregnating a girl in Liverpool -- appeared at the Blanchardstown District Court in Dublin on Thursday over a long-pending speed-driving case.
The judge Miriam Walsh had mentioned that McGregor has been showing her the "middle fingers" off-late by not appearing at the court on previous scheduled dates and times. The 29-year-old has been fined £350 after clocking a speed of 98 mph at the Naas Rode in Dublin on March 31. The speed limit is 60 mph.
Walsh mentioned that the next time McGregor does not arrive on time in the court, a bench warrant would be issued on him. McGregor's lawyer Graham Kenny too was clueless on Thursday why his client didn't arrive on time. Later it was found that McGregor was busy posting photos on Instagram.
The UFC star turned up to the court in a green adidas tracksuit. McGregor has been subsequently fined £350 (around $473) for over-speeding. Walsh also added that the combat arts specialist could pay the penalty on instalments, something which drew a laughter from McGregor. He earned a reported €140 million from his boxing match against Floyd Mayweather Jr!
Re-emergence of Martin "The General" Cahill?!
Just after leaving the court, McGregor enacted a pose like infamous Irish gangster Martin Cahill, who lived from 1949-1994. Nicknamed "The General", Cahill always used to hide his face from the media.
Cahill, who was also born in Crumlin, was a serial armed robber, who was chased by the Gardai (Irish police) for almost 20 years. His most infamous robberies included the theft of 11 Old Masters from the Sir Alfred Beit art collection at Russborough House in Co Wicklow, in 1986.
Cahill was subsequently zeroed in and shot by the 'Dublin-Belfast Brigade' of the Irish National Liberation Army (INLA), a Republican splinter group, in 1994.
The pose enacted by McGregor looks cryptic at a time when he is being accused of taking out the dad of another active Irish criminal Graham "The Wig" Whelan, in that pub fight at the Black Forge Inn on Sunday!