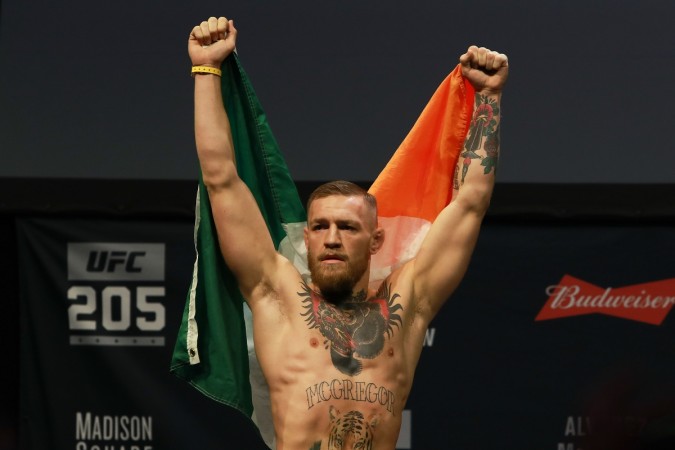 UFC superstar Conor 'Notorious' McGregor, who has left even his die-hard fans fuming for showing no interest in defending his lightweight title anytime soon, has been rumoured to be involved in a bar brawl in Ireland on Sunday night.
McGregor, who received the payday of his lifetime after losing to Floyd Mayweather Jr in a boxing ring earlier this year, was reportedly heavily drunk at the Black Forge Bar in Crumlin, Ireland. It was then that he had an altercation with a fellow customer, NOW IDENTIFIED AS A DRUG LORD'S DAD!
"What a wanker. Always honoured his loyalty...until tonight...he came into his 'local' and he started on some poor innocent kid.punching him.I really hope it turns out that we got the wrong end of the stick. But I doubt it. [sic]" read a Facebook post from a certain fan Lisa Leonard.
Karl Nicholson, another user, wrote on Facebook: "was drinking in the Blackfordge in Crumlin and McGregor came in and boxed the head of some poor chap out of his box [sic]."
A word is yet to come on the development from the combat artist, who has held the UFC featherweight title and the lightweight title simultaneously. He however has posted a cryptic video where he possibly attempts to scare off the viewers!
McGregor, on Twitter, liked a certain tweet....and later un-liked it! The tweet from a MMA fan page claimed that everything being discussed on social media about the incident is not official.
So your telling me that Conor Mcgregor walked into a bar in dublin, started a fight and NOBODY in the bar was taking a video. Absolute horseshit.

— tim ahern (@timahern3) November 28, 2017
McGregor hogged the news headlines some weeks back for all the wrong reasons. He was present at the cage side of the Bellator 187 event, cheering for his teammate Charlie Ward.
In a sudden turn of shocking events, McGregor rushed into the cage and shoved referee Marc Goddard and also slapped a commissioner in the face.