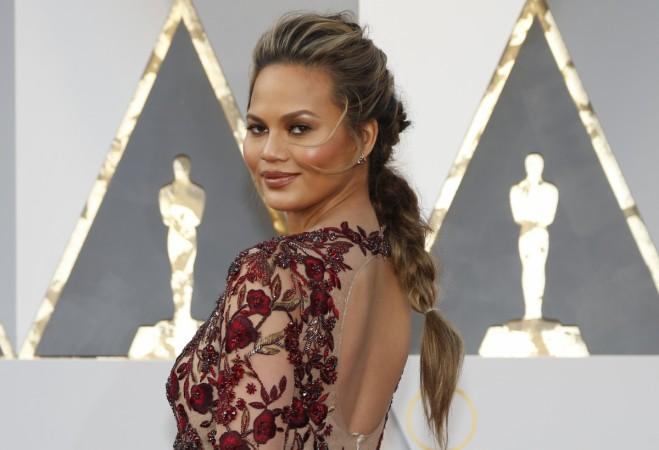 Model Chrissy Teigen suffered an embarrassing wardrobe malfunction and accidentally flashed her nipples while watching the 2017 Super Bowl with her husband John Legend on Sunday.
Also read: Miley Cyrus performs Lakshmi Puja at Malibu home; singer posts photos and videos of Hindu prayer rituals
Live television caught Teigen engrossed in the game between New England Patriots and Atlanta Falcons, and it looks like she wasn't aware that the fishnet top was not covering her nipples. Shortly after the incident, a Twitter user, who identifies himself as Chuck WIll, J.D., zoomed in on the wardrobe malfunction and shared it on the internet.
"Did anybody else catch this, or am I the only one?" He also tweeted it out to Teigen and Legend, writing: "@chrissyteigen @johnlegend Ummmmm the press box ain't save you... [eyeballs emoji]."
Teigen took the whole incident in a sportive spirit and tweeted out the video, writing: "Boom goes the dynamite."
Teigen is not new to wardrobe malfunctions. In November 2016, Teigen had set tongues wagging when she exposed more than she bargained for when she ditched her underwear for the American Music Awards. She was wearing a thigh-high split dress that flashed open on the red carpet, and her crotch was on full display.
She later apologised for the mishap. In an Instagram post thanking her team for her glam look, Teigen wrote: "#AMAs! love you so so so much -- @jenatkinhair @1maryphillips @monicarosestyle @kimmiekyees (apologies to anyone harmed mentally or physically by my hooha). Dress is #yousefakbar and shoes are @dsquared2."
"Laser hair removal is @sevlaseraesthetics," she added.
Responding to a user's tweet claiming that the wardrobe malfunction occurred because she was "in a hurry," Teigen wrote: "I was walking. It floated. It's over. I can't take it back. Here is a formal apology. What else would you like?"